Sterling/Euro Currency Review February 2015
February saw sterling adding to already impressive gains made against the euro since the beginning of the year, says Ben Scott.
The euro experienced a torrid time as a result of the turmoil surrounding Greece. The uncertainty regarding the newly elected Greek Syriza government's ability to make acceptable proposals to restructure their significant debt and the appetite of Greek creditors to accept any proposals, left many fearing Greece would leave the EU (Grexit).
A GBP/EUR low of 1.3170 (Interbank throughout) as illustrated by point A on the graph, was followed by a period of consistent euro weakness with sterling setting fresh seven-year highs several times throughout February as Germany openly opposed a haircut to Greece's bailout heightening fears of a Grexit. This resulted in a seven-year high of 1.3783 (point C), with GBP/EUR trading at an average rate of 1. 3481 throughout February.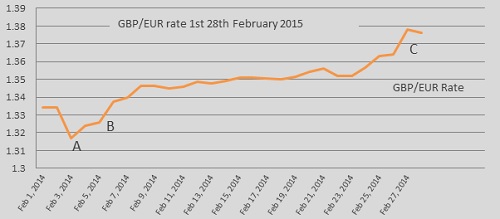 Economic data for both the Eurozone and the UK remained mixed throughout the month, but proved relatively trivial given ongoing discussions surrounding Greek debt.
Initial optimism that the newly elected Greek anti-austerity Syriza party would be able to restructure debt soon faded and euro weakness from point B shows the uncertainty the turmoil in Greece caused for the euro.
As is usually the case with European discussions a resolution remains unlikely in the short-term as the standoff surrounding Greek debt continues, but it is the ongoing lack of agreements which weighed so heavily on the euro, keeping the single currency on the back foot in most trading sessions.

Doubt again came to the fore mid-February where in the space of a few hours Greek Finance Minister Varoufakis claimed a "solution possible in 48 hours", whilst German finance Minister Schauble claimed, "Doubts have grown as to what Greece wants" - a comment supported by Spain's Minister of the Economy, Luis De Guindos. He further stated, "Greece has to make clear what it wants to do." It is this lack of clarity which contributed so significantly to euro weakness throughout February.
No country has ever left the euro before and this is part of the reason behind the continuing vagueness surrounding talks to restructure the debt. Meanwhile a comment from a Eurogroup official towards the start of February stating that "The Greeks are digging their own graves", points to the significant gulf in the concessions the Greek Government is looking for and any concessions actually being offered.
Euro weakness was exacerbated towards the end of February by reports that the European Central Bank (ECB) had actually prepared top secret blueprints based on what Europe would look like if Greece were to default on their debt obligations and consequently leave the Monetary Union.
With the ECB preparing for such an outcome, the possibility of a Greek exit clearly remains very plausible. Comments, however, from Eurogroup President, Jeroen Dijsselbloem, that a "Greek exit is not on the table", again highlights the conflicting reports from within, which causes uncertainty and therefore euro weakness.
0utlook
Economic data looks set solid in the UK, a point supported by Bank of England (BOE) Governor, Mark Carney, who raised UK growth forecasts from a previous 2.6% to 2.9%.

There are however several factors that will risk the immediate stability of the pound.
If inflation continues to fall as it has in recent months, BOE Governor Mark Carney stated that, "the Bank (BOE) could cut rates further". Such a monetary policy decision would follow the example of central banks including such as Canada, Switzerland, Australia and the European Central Bank, who have all recently cut interest rates to try and deal with the threat of deflation and/or to stimulate economic growth. Policies of this nature make the currency of that National Bank a far less attractive investment, which usually leads to weakening of the currency.
Risk remain in eurozone surrounding Greece. Germany approved the extension of Greece's aid programme by an additional four months on February 27th. A vote which the Greek Prime Minister, Alexis Tsipras, claimed allowed Greece to come away from talks having "regained its dignity and equality." Nevertheless, the fact remains that this extension is simply a four month bridge agreement designed to allow debt reduction talks to continue.
There remains a sense of inevitability that if both sides retain their hard line approach as emphasised by German Finance Minister, Wolfgang Schauble, who stated that Greece having won breathing space in its debt talks will not receive "a single euro" until it meets the pledges of its existing bailout programme".

Then, the four month extension is merely delaying the inevitable with the same situation likely to arise again in June, with Greece set to face a further financial crisis if agreement has not been reached by this point. This lead ex-Governor of the Federal Reserve, Alan Greenspan, to proclaim that in his opinion "the only way for Europe to move forward economically will be by Greece leaving". A Grexit, however, remains the worst case scenario, which all parties seem keen to avoid, such an outcome would surely have detrimental short-term implications on the single currency.
Economic data has largely taken a back seat throughout February whilst financial market waited to see the outcome of negotiations surrounding Greece. Markets will be searching for any impact on economic data as a result of the Quantitative Easing (QE) programme announced in January, but not introduced until March, on the economic performance of the eurozone. Data showing German unemployment fell for the fourth consecutive month, sitting at its lowest level since 1990, will provide hope of some economic stability in the eurozone.
Ben Scott
Foreign Exchange Ltd
www.fcexchange.co.uk
For the latest in-depth analysis, subscribe to our news service at France Insider.
France Insider is a subscription-based offer which has replaced our previous free Newsletter.