Sterling/Euro Currency Review June 2013
Despite suffering losses against the Euro throughout the second half of May, Sterling experienced an unremarkable start to June with rates treading water.
Eurozone economic data continues to disappoint, in contrast to improving UK data. However Sterling gains were minimal as speculation grows surrounding the intentions of incoming Bank of England Governor Mark Carney.
Sterling touched a high of €1.1808 (interbank) on 26th June after a low of €1.1640 (interbank) on 20th June, trading at an average rate of 1.1738 during June 2013, as illustrated on the graph below.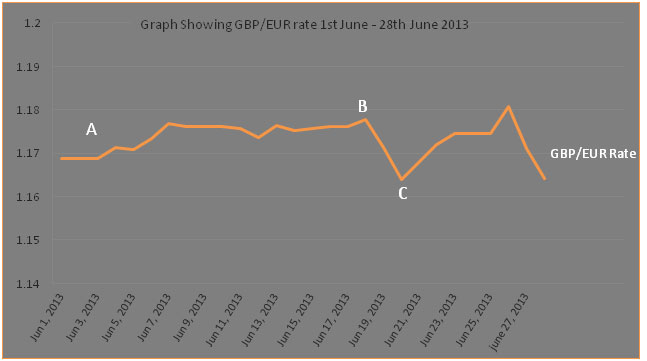 Euro buyers will be encouraged by improvements in the UK economic outlook and will hope this positivity will not be reversed under the stewardship of Mark Carney.
As illustrated between points A and B on the graph the GBP/EUR rate traded within an extremely tight range throughout the first half of June.
Sterling was supported by a plethora of significantly improved economic data from the UK which showed improvements in all aspects of the UK economy, leading Bank of England governor Mervyn King to claim that "there is now good reason to suppose that a gentle recovery is underway", a statement supported by the National Institute of Economic and Social Research (NIESR) who released Gross Domestic Production (GDP) forecast for Q2 2013 forecasting that the UK economy grew by a very respectable 0.6% in Q2 2012.
Sterling gains were worryingly muted though as we once more witnessed the Euros resilience to appalling economic data from the Eurozone. Negative data included a growth downgrade from the European Central Bank (ECB), and Eurozone unemployment reaching record levels, with youth unemployment in Greece and Spain reaching a shocking level of 55%. This lead the International Monetary Fund (IMF) to urge further rate cuts from the ECB to stimulate economic growth.
The decrease in the GBP/EUR rate, illustrated by Point B, came on the announcement of an unexpected jump in inflation in the UK. High inflation currently has a negative impact on Sterling as it reflects an increase in the cost of living which has a negative knock-on effect on other sectors, stunting economic recovery. However, more importantly in the short-term, high inflation leaves the door open for further Quantitative Easing, the threat of which again weighed heavily on the Pound.
Sterling stability was quickly re-established from Point C as retail sale figures reflected significant improvements in the UK economy and the IMF issued an urgent call for immediate action to spur growth and employment, particularly in Spain, suggesting current ECB policies were insufficient, causing the Euro to falter.

Outlook

Numerous factors will determine the direction of GBP/EUR rates in the short to medium term. Whilst the UK economy is once more looking for growth, the Eurozone continues to struggle for any form of stability handicapped again by division amongst European countries and leaders, as illustrated by Germany challenging the legality of the European Central Banks 'Outright Monetary Transactions' programme through the German Supreme court. Although a decision is not due until the autumn such division will surely prove detrimental to the Euro.
Meanwhile, European Central Bank President Mario Draghi claimed that he "sees no challenge to the ECB from lower rates", potentially hinting at further rate cuts or a sustained period of extremely low interest rates, which given increasing inflation in Germany, indicates further conflict to come between the ECB and Germany, which could weigh massively on the Euro.
Despite improving economic data from Germany significant concerns remain for the Euro, positive sentiment again proved erroneous as claims from Herman Van Rompuy, the head of the of the European Council, that "the single currency was now safe from the challenges and threats brought about by the financial and sovereign debt crisis", were contested by resurfacing concerns surrounding Cyprus.
Amidst claims that Cyprus was already looking to renegotiate their bailout terms, the Prime Minister of Cyprus sent a letter to European leaders asking for financial assistance to help the stressed Bank of Cyprus, raising further concern for the Euro.
In the UK, despite improving data leading to hopes of sustainable economic growth, comments from outgoing Bank of England Governor Mervyn King that the recovery was "too weak to be satisfactory", raises concerns of a unsustainable economic recovery.
*All rates interbank

Ben Scott
Foreign Exchange Ltd
www.fcexchange.co.uk
For the latest in-depth analysis, subscribe to our news service at France Insider.
France Insider is a subscription-based offer which has replaced our previous free Newsletter.