Sterling Edgy Ahead of Referendum
It continues to be an uncertain period for sterling ahead of the UK referendum, with conflicting polls that offer no clear insight into the likely outcome of the vote this month, writes Ben Scott.
For most of last month the pound pushed higher against the euro, as referendum polls tended to suggest that there was a majority of British voters in favour of remaining in Europe.
One of the key drivers for the pound's rally during the month was an influential ComRes telephone poll for the Daily Mail and ITV News showing a 17-percentage point lead to remain in the EU.
The poll cited the effects on the UK economy as one of the most important factors in the minds of voters.
This news pushed the GBP/EUR rate up by 3%, and above the crucial €1.30 IB (interbank) rate.
That trend changed towards the end of the month, when sterling lost all recent gains made against the euro on the back of ICM and Guardian polls indicating that the 'leave' campaign was gaining ground.
The movement in opinion highlights the particularly volatile period for sterling against the euro, with the markets at the mercy of the polls.
Leading politicians in the British government and other influential figures such as the Bank of England governor, Mark Carney, and IMF chief Christine Lagarde, have been vocal in expressing concern about the impact on the British economy of leaving Europe.
Recent comments from the chancellor George Osborne that the UK could fall into recession and could lose up to 820,000 jobs have also been hard for voters to ignore.
The support given to staying in Europe by so many leading figures both in and outside of government has boosted the value of sterling against the euro.
However, if the 'Leave' campaign gain momentum with their key topic of immigration, then the tables could well be turned and there will undoubtedly be a sell-off of the pound, as occurred on 1 June 2016.
The graphic below illustrates a potential outcome for sterling if you're looking to buy euros with £100,000, compared to an exchange rate of €1.2700.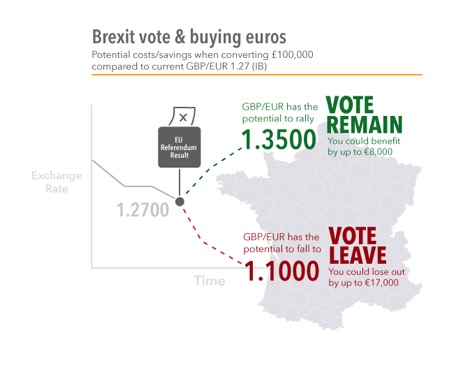 Are you at the point of committing to an international transfer to France? If you would like to manage your exposure to market volatility over the Brexit period by finding out how to secure today's exchange rate with a forward contract, then please visit www.fcexchange.co.uk for further information.
Ben Scott
Foreign Exchange Ltd
www.fcexchange.co.uk