Higher Interest Rates for the UK?
The pound had a better month in September, climbing away from parity fears and into safer territory, supported by the prospect of higher interest rates, writes Ben Scott of FC Exchange.
UK Economic Data

The UK had a mixed month for economic data and the pound's direction didn't always correlate with the ecostats on offer.

At the start of September (Point A on graphic) Markit released its UK services purchasing managers' index (PMI) which hit an 11-month low of 53.2 in August.

Despite this, factors elsewhere allowed the pound to climb against the US dollar, while remaining softer against the euro.

Markit also noted that growth had eased in the second half of the year, and had been performing notably weaker than the first-half average. As markets entered October, Markit revealed its September services PMI had recovered, rising to 53.6.
September also revealed inflation rose quicker than expected in August, climbing to 2.9% on the year, above the 2.8% forecast and higher than the 2.6% reading in July. The rise was attributed to clothing price hikes and fuel cost increases.
Meanwhile, growth forecasts were pessimistic in September after a revised gross domestic product (GDP) reading for the three months through June showed Britain registered its weakest annual growth since 2013 at 1.5%. The Office for National Statistics (ONS) said: 'There was a notable slowdown in growth in the first half of 2017. The often buoyant services sector was the only area to grow in the second quarter, mainly due to increases in computer programming and retail.'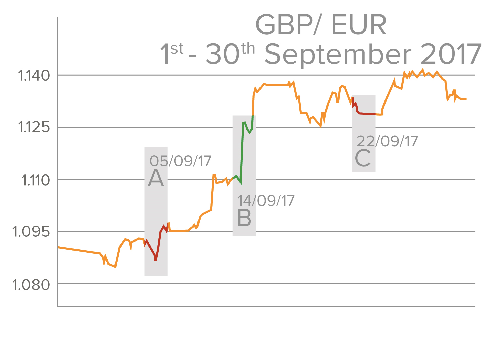 Economic Data in the Eurozone
In the Eurozone, unemployment managed to maintain an eight-year low, showing signs of how well the currency bloc's recovery is performing. In Germany unemployment fell from 3.7% to 3.6% and the Netherlands also saw a fall to 4.7% to 4.8%.

However, inflation was a little disappointing for the Eurozone, holding on to an annual 1.5% in September, despite forecasts to rise to 1.6%. In September, European Central Bank (ECB) Chief Mario Draghi commented on inflation, suggesting that it was unpredictable.
Draghi said: 'Overall, we are becoming more confident that inflation will eventually lead to levels in line with our inflation aim, but we also know that a very substantial degree of monetary accommodation is still needed for the upward inflation path to materialise.'
Meanwhile, Eurozone manufacturing businesses registered their strongest month for job creation on record in September, and the Markit manufacturing PMI came in at 58.1 – a six-and-a-half-year high.
Credit Ratings
September saw Moody's Analytics downgrade the UK's credit rating to the country's lowest ever level of Aa2 from Aa1. Downing Street hit back suggesting that the assessment was out of date as Theresa May had just undertaken a speech in Florence, but Moody's retorted in what became a squabble the public could witness.
Interest Rates
September ended on a more positive note when it comes to the topic of interest rates as Bank of England (BoE) Governor Mark Carney suggested the central bank was close to hiking rates. Carney said: 'If the economy continues on the track that it's been on, and all indications are that it is, in the relatively near-term, we can expect that interest rates would increase somewhat.'

On the 14th September (Point B) the pound enjoyed a rally after the BoE's meeting minutes hinted at raising interest rates over the coming months in an attempt to bring inflation back to target. Just a few days before the pound reached a one-year high versus the US dollar following the jump in UK inflation.
However,at the start of October credit ratings agency Standard and Poor's (S&P's) suggested that the BoE had been discussing the possibility of rate hikes in order to prevent sterling from sliding. S&P's said: 'We remain a bit sceptical as to how justified such a hike would be in the near term. Overall, we believe the Bank and Mark Carney's recent statements are primarily aimed at propping up sterling to reduce imported inflation pressures. This strategy may include an actual 25 basis point hike in November, thus bringing the policy rate back to where it was before the Brexit referendum. Additionally, moves in 2018 do not appear warranted on the back of a slowing economy.'
Markets will be carefully eyeing any inflation figures as rising consumer prices could be the key to pushing the Monetary Policy Committee (MPC) to increase interest rates.

Meanwhile in the Eurozone, Mario Draghi warned that a strengthening euro may impact the European Central Bank's plans to taper its massive stimulus programme.
Calls for GBP/EUR Parity Fade
There's been a lot of speculation in the market of late as to whether the pound could fall to parity against the euro. It's been touch and go with the pound dropping to fresh eight-year lows against the euro in August at levels of 1.07, but the pound's luck seemed to change in September and the British currency rallied against a host of other majors, breaching the 1.14 level versus the euro.
Political Market Movement
Sterling stayed subdued towards the end of the month (Point C) ahead of Theresa May's speech in Florence. Little new information was given, and some industry experts are beginning to fear that the UK could see businesses make decisions on a worst-case scenario outlook during the period of uncertainty to protect themselves. Brexit developments will continue to be closely watched.
In other news, an illegal referendum in Catalonia which saw over two million people vote overwhelmingly in favour of independence shook markets at the start of October. Developments in Catalonia will be likely to pressure the euro in coming months, as could political progression in Germany following the election.

Although Chancellor Angela Merkel managed to secure her fourth term, she has to make a coalition deal and the political uncertainty has weighed on the euro.
Ben Scott
Foreign Exchange Ltd
www.fcexchange.co.uk
For the latest in-depth analysis, subscribe to our news service at France Insider.
France Insider is a subscription-based offer which has replaced our previous free Newsletter.