French Village Programme 2015
Thursday 04 December 2014
We shall be hosting our popular 'French Village' at A Place in the Sun Live overseas property exhibition in three different venues in 2015.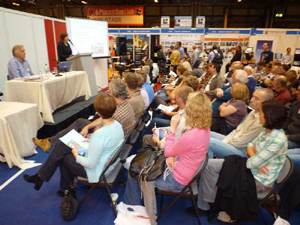 Our association with A Place in the Sun Live overseas property exhibition takes a further step forward next year, with the launch of an additional show in Manchester.
The show is the official exhibition of the popular Channel 4 overseas property television series.
The event in Manchester will be in addition to the regular shows that take place each year in London and Birmingham.
The programme dates for the three exhibitions is:
Manchester Central - 13th -15th March

London Olympia - 8th -10th May

Birmingham NEC - 25th - 27th Sept

As well as offering a selection of properties from agents and private vendors across France, there will be a packed seminar programme for each show, with rolling presentations from expert speakers.

The seminars will cover some of the key issues of interest to French property buyers, such as the legal process of buying French property, French taxation, health cover in France, currency management, living in France, building and planning, and running a business.

They will be free to attend on a first come, first served basis.

Visitors will be able to meet our team to discuss their French property needs and aspirations.

We also offer sellers of French property an opportunity to advertise your property for sale in our private classifieds section, one of the most popular features in our French Village. You can find more information on our French Village Website.


If you are looking to buy French property then we hope to meet you at one of the shows.

This article was featured in our Newsletter dated 04/12/2014