Manchester Show Shines Over Grey Skies
Nearly 7,000 visitors turned out for the first Manchester A Place in the Sun Live overseas property exhibition last month, with the French Village attracting substantial interest.
Over 3,000 people visited on the Saturday alone, a record for the exhibition, and proof that Britons are buying property abroad again.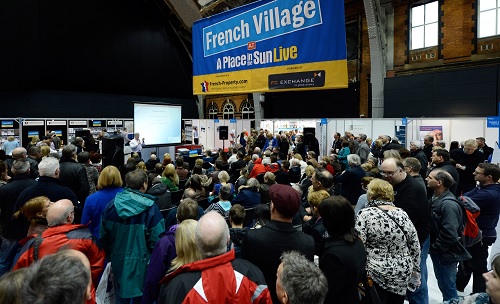 There was an upbeat and buzzing atmosphere throughout the show with lots of beautiful properties on sale to suit all budgets and plenty of opportunities for visitors to quiz experts on their stands and during presentations. For many of the presentations there was standing room only.
The French Village theatre was packed throughout the weekend as people queued to hear from experts talking about buying French property and living in France.
As is always the case, it was the South West of France that was the favoured choice for most visitors to the French Village, with Languedoc-Roussillon following closely behind. Brittany also remained popular for those who wanted a closer connection with the UK.
Joanna Leggett of Leggett Immobilier stated that, "
There was strong demand for both permanent and holiday homes, although most visitors were seeking to relocate on a permanent basis. There was very little interest in major renovation projects, with most potential buyers wanting to limit themselves to a modest level of building works. Most interest was expressed in properties under €300,000."
Andy Bridge, Managing Direction of A Place in the Sun Live said

, "An improving UK economy coupled with a sterling/euro exchange rate making properties 20% cheaper than this time last year, has motivated potential buyers to move forward with their overseas property plans
.
Buyers have been few and far between in the last six years so a latent demand has built up which we are starting to see come through. Buyers are more informed and quite rightly more cautious, but ultimately better placed to benefit from a favourable set of market conditions."

The next shows are at Olympia London 8th-10th May, with a third 2015 show at the NEC Birmingham 25th-27th September, where we shall once again be present in our 'French Village'.
For the latest in-depth analysis, subscribe to our news service at France Insider.
France Insider is a subscription-based offer which has replaced our previous free Newsletter.