Advertise your Property at A Place in the Sun
Tuesday 03 September 2013
Advertise your property for sale in our French Village at A Place in the Sun Live, NEC, Birmingham.
The private advertiser area is one of the most popular attractions at our French Village.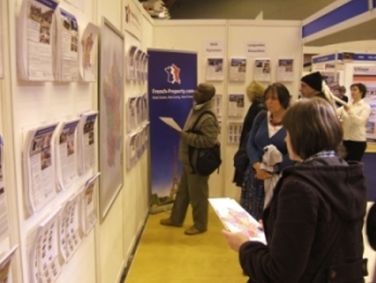 Why Advertise at the French Village?
•

Maximum exposure

- Prime advertising space will again be dedicated to the promotion of our private adverts.

•

Unrivalled insert advertising

- French Village show bag inserts again form an integral part of our premium advertising package.

•

Online advertising

- Free advertising across the French-Property.com network is included in both our standard and premium advertising packages.

•

French property focus

- A tried & tested format offering a dedicated exhibition and seminar area for property in France.

•

Marketing campaign

- The television, online and print marketing campaign is well underway. We anticipate another good attendance as well as a strong visitor profile, similar to that encountered at Olympia, London in March.
You may choose from one of the 2 packages listed below:

Advert Features
Standard Package
Premium Package
Advert on display at the show
150 single-sided A4 adverts
Professional template design
High quality A4 paper
3 months standard online advertising

6 months premium online advertising

Advert inserted into show bag
(Max. distribution 1,500)


£150 (Ex. VAT)
£300 (Ex. VAT)
Online Registration
An online registration form where you can sign up and create a draft advert in a matter of minutes.
More Information
To view more information including details, images and feedback from our previous events, please click the link below to access TheFrenchVillage.co.uk. Alternatively, do not hesitate to contact a member of our team if you have any questions.

We are confident that the French Village will be another invaluable event for our private advertisers and we look forward to hearing from you shortly.
Closing Dates:
Premimum Adverts: 13th September
Standard Adverts: 20th September
For the latest in-depth analysis, subscribe to our news service at France Insider.
France Insider is a subscription-based offer which has replaced our previous free Newsletter.