Thank you to the hundreds of you who visited us at our French Village, at the NEC Birmingham last weekend.
This was our third visit to the NEC for A Place in the Sun Live, and with so much doom and gloom around our expectations were inevitably dimmed.
How pleasantly surprised then to find that within a short while of the doors opening at 10am on Friday morning all of the stands in our French Village were busy. That remained the case throughout the weekend.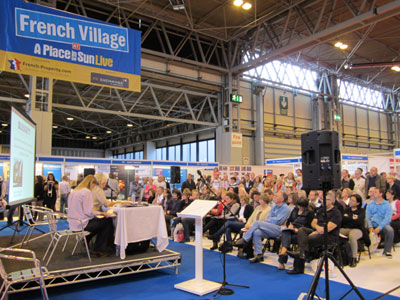 Attendances at the seminars held each day were very well attended, often with only standing room available. Perhaps not unexpectedly greatest interest was in those on the legal aspects of buying property in France, and on tax and inheritance planning, led by French property solicitors and tax advisors Furley Page.
You can read more about both of these topics in our Guides to France.
Natasha Espinosa, Communications Manager at FC Exchange, currency specialists and sponsors of the French Village stated that, "We thought it a really positive show. The number of enquiries was very encouraging, with a real indication that Brits are buying in France again.
Over half of the of visitors we met were unaware of the benefits of using a currency service over a bank, so it was a great opportunity to inform them about the better rates and less expensive, more personal service we are able to offer."
Joanna Leggett of estate agents Leggett Immobilier, with branches all over France, shared the optimism: "We had an enjoyable and really successful show this year. We spoke to several hundred visitors, much more than in previous years, with most looking to buy within the next 12 months. It was clear that France is just as popular as ever.
That popularity is also reflected in the number of sales that have recently taken place in our agency, with no less than 11 properties sold in the week before the exhibition."
For Edward Landau of Le Bonheur Immobilier, based in the Midi Pyrenees, "We have not seen this level of visitors passing through our stand for several years. We quickly ran through our stock of brochures over the course of the show and we found that many of the visitors had well defined plans for their acquisition in France. We are currently busy dealing with all the enquiries registered on the stand and we have several visits planned."
Free Prize Draw Winner

We are pleased to announce the winner of our French Village free prize draw is S. Brown from Cumbria.
The winner takes home a luxurious hamper containing a range of the choice food and drink kindly supplied by French Flavour Ltd.
French Flavour supply a range of quality food and drink on a mail order basis.
The company source only from small scale French "Artisan" food producers who do not use artificial additives or preservatives in their products.
You can view their list of products, including gifts ideas at French Flavour.