French-property.com – Still No 1 in Google
As part of the month-long celebration of its tenth anniversary Google has published its oldest recorded search listings.
'Google Search 2001' allows visitors to step back in time and browse its oldest available listings from January 2001.
Throughout the last 10 years Google has pioneered online searching, developing the most sophisticated and popular search engine in the World.
During this time the www.french-property.com website has consistently dominated Google's most searched terms for purchasers of property in France.
French-property.com proudly retains its position at the top of Google for the leading market related keywords, including searches for French property and French properties:
Search 2001 Results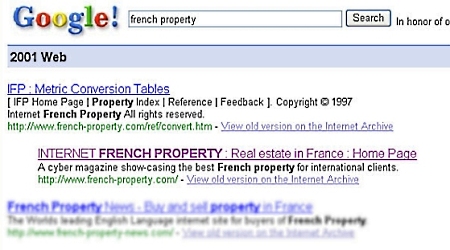 Search 2008 Results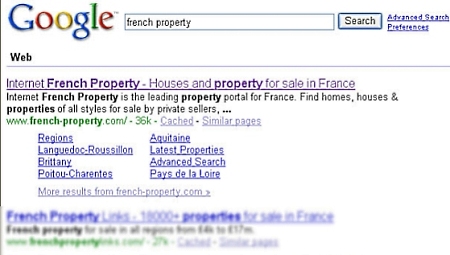 Keywords: French Property
Keywords: French Properties
We are very proud of this achievement and remain committed to retaining our leading position in the market place, and to provide you with a highly accessible and comprehensive service.
We have many new developments planned for the site in the future to ensure that we continue to provide a high quality listings and information service for buyers and sellers of properties in France, and for visitors to France.
For the latest in-depth analysis, subscribe to our news service at France Insider.
France Insider is a subscription-based offer which has replaced our previous free Newsletter.