French Village Impresses at A Place in the Sun Live
Our French Village appears to have been a success at the A Place in the Sun Live exhibition last weekend, despite road, rail and air disruption.
This was the first occasion in several years that French-Property.com have participated in property exhibitions.
Invited by A Place in the Sun Live to host a 'French Village' at their overseas property exhibition in London at the end of March, the results pleased visitors, exhibitors and the organisers of the exhibition.
Visitors had the opportunity to meet the team at French-Property.com, as well as the experts and agents we brought along with us.
Andy Bridge, Managing Director of A Place in the Sun Live stated that, 'This is the first time we have run a French village in partnership with a specialist organisation such as French-Property.com and are delighted with the results.'
He added, 'French buyers know exactly what they want and it is vital to give them high-quality information and advice to help with them their purchase plans. To do this you need a series of experts and a structure behind them, A Place in the Sun and French-Property.com delivered this successfully and we look forward to doing so again.'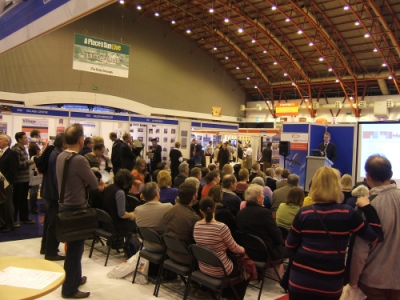 Pat Monk, Managing Director of French-Property.com stated that, 'We decided that we needed to offer visitors something more than just properties to view.
So as well as the opportunity to meet with estate agents, we also had available a number of legal, tax, health and financial experts.
We also ran a series of seminars, as well as offering visitors the opportunity to view properties on-line at installed computer stations. It was a truly 'one-stop-shop' for anyone interested in buying French property. '
Matt Prevost, of Halo Financial Ltd currency brokers stated that, 'The village offered expertise in all aspects of property purchase, as well as lifestyle issues and taxation.
Our own currency market experience was in demand, especially in these times of Sterling weakness.
It seemed to us that those with a desire to live in or invest in France were clearly happy with their decision to attend.'
Overall visitor numbers at A Place in the Sun were over 6,000, up by 8% over last year, with exhibitors also of the view that there were a good number of serious buyers at the event.
Numbers were up despite the fact that travel on the underground was severely affected by widespread maintenance works, some major road links into London were affected by year end maintenance, and there was a strike by cabin crew at British Airways!
Thank you to those of you who attended the show, and we hope we can be of further assistance to you in the future in your search for a home in France.
For the latest in-depth analysis, subscribe to our news service at France Insider.
France Insider is a subscription-based offer which has replaced our previous free Newsletter.