South West France A65 Autoroute in Difficulty
An ambitious new autoroute between Bordeaux and Pau in South West France has hit severe financial difficulties.
Last month the joint venture company who hold the management contract for the 150 kilometre stretch of the A65 autoroute was forced to deny claims that the company was facing bankruptcy due to its failure to capture enough traffic.
According to Olivier de Guinaumont, President of the Group, A'liénor, one of the joint venture partners, last year the route lost €35 million, a comparable result to that in 2011, and almost equivalent to the revenues generated by the route!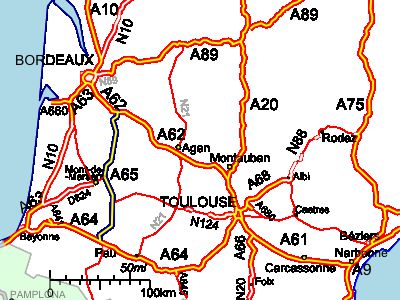 Under European regulations the company is not able to subsidise the losses on the autoroute from profits it makes on other routes in France.
The reason for the losses – traffic levels on the route have not lived up to expectations, with heavy goods traffic, in particular, down by up to 50% on initial forecasts. Around 6,000 vehicles use the motorway each day.

It seems that due to the high costs of using the motorway – the highest toll rates in France - traffic is continuing to use the toll free parallel route nationale N934/N834, notorious for its high accident rate. The cost of the toll for car from Langon to Pau is currently €21.60, equivalent to around 14 centimes a kilometre. For the largest heavy goods vehicles the charge is €65.

The claims of too high charges are denied by the management company, who blame the economic downturn, with traffic levels between Spain and France lower than forecast.

The company also considers that the difficulties have been made worse by the abandonment of the section of the autoroute between Pau and Oloron that was also due to be constructed.
Inaugurated in 2010 the A65 (E7 in European terms) autoroute between Langon, south of Bordeaux and Pau in the Pyrenees Atlantiques is the first 100% privately funded motorway in France, at a cost of €1.2 billion.
Around €900 million of this sum was funded by loans taken out by the joint venture company the majority of which is guaranteed by the regional council and other departmental councils.
Under the terms of the deal with the councils, if the autoroute does not make a return on investment, then the management company has the right to call in the guarantee to recapitalise the company. The company deny that they are approaching that point.

Before construction work began on the motorway in July 2008 it was already subject to a huge amount of controversy, due to the vast swathes of the world renowned pine forest of the Landes that were removed, together with expropriation of large areas of agricultural land.

As far back as 2005 a public inquiry into the new route concluded that "the expected traffic is not enough to balance the cost of the construction and operating costs."