Are there Too Many Airports in France?
Tuesday 03 May 2016
The airport infrastructure in France is vast, but the majority of airports receive few passengers and remain open only through public subsidy.


There are around 170 airports in France, a level of cover that equates to one airport for around every 400,000 of the population.

That is around three times greater than the United Kingdom with 50 airports, six times greater than Italy which has 27 airports, and no less than twelve times more than in Germany, with 19 airports.

It is of course very good news for those of us who travel to and from France, but is it sustainable?

The graphic below shows the location of the airports.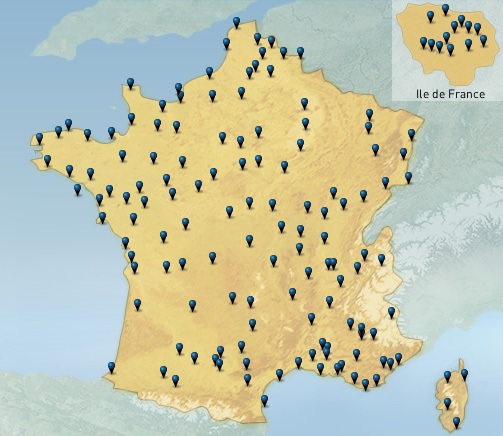 Source: UAF


In reality, only around half of these 170 airports receive commercial passenger traffic.

However, even then the passenger figures for the majority of the airports receiving commercial traffic are woefully low.

According to the government's own figures, sixty-six airports share between them around 5% of the passenger air traffic and around 40 airports have less than 1% of total traffic.

Only sixteen airports have in excess of 1 million passengers a year, which, according to the French National Audit Office, is the minimum number required for an airport to be financially self-sufficient.

The only airports which meet this test are Roissy-CDG, Orly, Nice, Lyon, Marseille, Toulouse, Bâle-Mulhouse, Bordeaux, Nantes, Beauvais, Lille, Montpellier, Ajaccio, Bastia, Strasbourg, Biarritz, and Brest.

The ten largest of these airports account for 90% of all passenger traffic. Paris Charles-de-Gaulle is by far the largest catering for 66 million passengers a year. It is followed by Paris Orly (31 million), Nice (12 million) and Lyon (9 million).

The

Direction générale de l'Aviation civile

figures for 2015 show that 22 of the commercial passenger airports have less than 10,000 passengers a year.

They include such notable names as Cannes (7,285), Le Mans (6,072), Perigueux (5,874), Angouleme (2,225), Annecy (3,740), Le Touquet (1,752) St Tropez-La Mole (3,703) and Le Havre (5,657).

A further 8 have less than 100,000 passengers. The list includes Aurillac (27,790), Agen (39,026), Brive-Soulliac (68,215), Castres (41,372) and Avignon (10,544).

In Normandy, a region of less than 2 million inhabitants there are no less than five airports, three of which are within a distance of 50 kilometres from one another.

Other airports less than one hour's drive from one another are Annecy and Chambery, Nimes and Montpellier, Perigueux and Bergerac and Nancy and Metz.

Many of these airports effectively only open during peak holiday periods, for summer or winter, when the charter or low-cost airlines that use them offer flights.

As a result, the withdrawal of one airline from the airport can bring an end to any commercial activity.

History explains a great deal of this development for much of the basic infrastructure was laid during the pre and post-war era for military purposes.

However, their subsequent development has often been down to the

folie de grandeur

ambitions of local councils seeking to promote economic development in their area in competition with neighbouring departments and regions.

As a result, the airports are largely owned by public sector consortium bodies who have invested huge sums of public money in their development on the basis of highly optimistic traffic predictions that have simply not materialised.

Many more millions continue to be expended in support of operations that are loss-making.

But the contribution of the local councils to the airports does not tell the whole story, for tens of millions in taxes collected from the larger airports are redistributed by central government to many regional airports as 'public interest' financial support.

In addition, many local councils have entered into arrangements with low-cost airlines to provide promotional support to the airlines to attract new traffic. One of the main beneficiaries has been Ryanair.

A great deal of the financial assistance given to the airports and airlines is also of dubious legal validity, with the issue in

the visor of the European Commission

and

French national auditors.

Many specialists consider that at least 20 regional airports should be closed, but whatever the economic case may be for closure, there is rarely any political support for it.

As if there were not already enough airports in France the government is proposing a replacement airport for Nantes in Brittany, a project that has aroused huge controversy in the country, with even government ministers publicly at odds over whether it should go ahead.




A recent expert study into the plan commissioned by the Minister of the Environment, Ségolène Royal (who is opposed to it) concluded that the proposed airport was 'over-sized' and should be scaled back.




The airport has long been promoted by former French Prime Minister and mayor of Nantes, Jean-Marc Ayrault, who is now Foreign Minister in the present government.

The huge protests against the airport have obliged the government to hold a referendum into the plan, which will take place in June.

POSTSCRIPT - Since this article was published in 2016, in January 2018 the government made the decision to abandon the new airport at Nantes in favour of improvements to the existing airport.


Related Reading:

This article was featured in our Newsletter dated 03/05/2016, 08/02/2018