Best Beaches in France 2013
A compilation of the best beaches in France this year for the discerning holidaymaker.
Just what makes a great beach does of course depend on what you are looking for. However, one certainty about France is that there is a beach to suit all tastes and all pockets.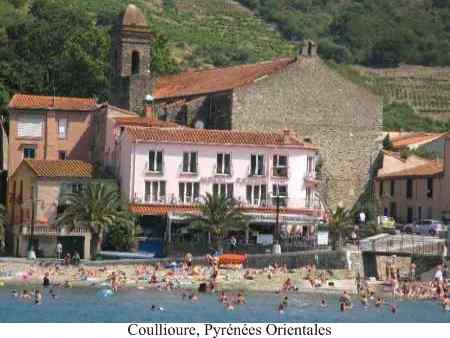 The country possesses around 2000 miles of coastline, containing thousands of beaches and hundreds of seaside resorts of an infinite variety.
The planning protection afforded to the littoral has meant that the vast majority of beaches have escaped the ravages of concrete and bitumen that have obliterated much of the Spanish coastline, so that most still retain oodles of natural charm.
On the Atlantic coast, whether it is the rocky coastline of Brittany, the historic beaches of Normandy, the sunshine resorts of Poitou-Charentes, or the waves of the Basques resorts, there is plenty on offer.
Cross to the Mediterranean and there is the naturism of the beaches of Languedoc, the coves of the Var, or the chic resorts of the Cote d'Azur.
We have made a compilation of the best spots.

Brittany and Normandy
Between them, Brittany and Normandy contain some of the most attractive beaches in France.
They also each offer something different, with Brittany offering rocky coves, creeks and dramatic cliffs, while Normandy offers an endless beach and the charms of historic 19th Century seaside destinations.
In the Côte d'Amour you will find at Trévou-Tréguignec the Plage de Trestel, a lovely crescent shaped sandy beach.
The fine beach of Saint-Guirecis is located at Ploumanac'h, surrounded by pine trees and a rocky landscape.
A quieter, wilder location is Trez Bihan at Telgruc-sur-Mer, a beach that is only accessible on foot, down the steps of the cliff, where another world awaits you.
The Quiberon peninsular is a wonderfully attractive spot and boasts a lovely long beach. The area is also famous for having an association with Harry Potter (Quidditch). All best explored on foot and with a camera.
Another beach of note isTréompanat, Lampaul-Ploudalmézeau.
Sadly, there would probably be many others, but for the problems of green algae that regularly close a number of lovely beaches in this region.

The Normandy coastline is just one huge sandy beach and the charming coastal towns of Deauville, Honfleur, Trouville and Cabourg are always an attraction, as are the D Day beaches of Utah, Omaha, Gold, Sword and Juno.
Another essential beach to visit is Etretat north of Le Havre, a destination that was once a haven for many famous French artists. A very famous cliff arch, seen on many photos. Enchanting.

Poitou Charentes
The coastline here contains some of the best known places to holiday in the world, such as La Rochelle, Orleon, Ile de Ré, and Sables d'Olonne.
Near the Sables d' Olonne at Olonne sur Mer in the Vendée is where you will find the unspoilt Sauveterre beach hidden amongst the forest. A rather wild and natural atmosphere, but a beach that is well managed and safe.
At La Rochelle there is the famous Minimes beach, located very near to the Marina. Unfortunately, it does get very busy in summer, but it is nevertheless full of charm.
Those who prefer fewer crowds can try the Chef de Baie, which is part of a fishing port and has a strongly authentic character.
One of the most attractive beaches in France is located at Pornichet where you will find Sainte-Marguerite. It offers a backdrop of a pine forest, a traditional rural atmosphere and a lighthouse for visitors, offering great views of the area.
Difficult also not to include the Ile de Ré where there is the Rive-doux, actually comprising two beaches, where water sports of one kind or another take place.
Similarly, on the Ile d'Oleron the beaches seduce, notably La Grande Plage and Giraudière. Once again, the beaches are strong on water sports and parts are reserved for naturists. A quieter beach near the forest is Gatseau.
Further down the coast there are kilometres of beaches at Royan, notably La Grande Conche and Pontaillac, both well exposed to the sun and offering a range of nautical activities.
There are also the quieter beaches of Tremblade and Ronce-les-Bains situated between forest and sea, as well as the family resort of Chatelaillon.
Aquitaine, Landes and Basques
Another list of famous tourist destinations in the world adorns the region, including Biarritz, Saint-Jean-de-Luz, Capbreton, Arcachon, and Hendaye.

There are around 7 kilometres of beaches at beautiful Arcachon, and probably the most outstanding of them is the Pyla beach, with fantastic views around the bay.
Whilst there you should also pop around the corner to Cap Ferret, and take moules frites at the restaurant Chez Hortense, or huitres at the Quartier des pêcheurs.

The beaches of the Landes attract many nature lovers as well as surfers. Given the currents and wave activity on these beaches, particular care is needed when bathing.
It is difficult to pick out any beach in particular, but the beach at Biscarrosse is immense and offers plenty of peace. Hossegor is the top spot for surfers. Conti is also a casual and popular beach.
Once beyond the Landes then the landscape changes, with endless sand dunes broken by rocks and cliff faces.
At Biarittz, la Grande Plage has its reputation, but we prefer the smaller and more harmonious Côte des Basques, particularly at sunset.
Away from the surfers, then head for Hendaye, where the calmer sea and immense beach enables you to swim in complete security, as well as being able to pop across the border to Spain for lunch or dinner!
Languedoc Roussillon
At the Grau-du-Roi, near Montpellier, the huge d'Espiguette beach has a wildness and naturalness about it that does not disappoint. Difficult to believe one is so close to the town. Parking can be tricky.

In a similar style, and also near to Montpellier, is the Plage du Grand Travers in Carnon, which has a strong family orientation and is full of interesting small restaurants and bars, although it can be very busy.
The Cap d'Agde may well be more widely known for its naturism, but it also has the beautiful Plage de La Grande Conque, and La Plage Richelieu, situated amongst beautiful verdant nature, more suited to families than other beaches.
Perhaps the best beaches in this region are at the fishing port of Sète, where there are around 10 kilometres of white sand. Beaches at Lazaret and Corniche offer excellent bathing for families. The town itself is also an attraction.
Near to Perpignan is the town of Argelès-sur-Mer, which is a far more relaxing place than its neighbour and the long and beautiful beach is good for families.
Other great beaches in the region are the wild dune at Sérignan.
Provence Côte d'Azur
Into the Var, and the sheer beauty and scale of what is on offer will amaze you. A wonderful range of inlets and a beautifully preserved landscape.
One of the most attractive is the Plage de Pampelonne near the village of Ramatuelle, near neighbour of overcrowded St. Tropez.
Another magnificant beach is the Plage de l'Estagnol at Bormes-les-Mimosas. Around 500 metres of beautiful landscape surrounding this cove.
Try also the smaller but highly agreeable Plage de Camp Long at Saint Raphaël.
The Bouches-du-Rhône also has a classic offer, with a paradise of beaches from Cassis (Calanque d'En Vau Plage) and Carry-le-Rouet (Rouet Plage).
Although not known as a beach, the Carmargue does have plenty of beaches to enjoy, particularly if you want to explore what the nature of the area has to offer, rather than sunbathe and swim. A potentially exciting and interesting experience.

Difficult to get far from the madding crowd on the Cote d'Azur, so perhaps best enjoyed on one of the private beaches, where the greater privacy and tranquillity is worth paying for.
We think you will all be familiar enough to know what to expect, so we will avoid the trip around Nice, Cannes and Juan-Les-Pins. If you want to enjoy them at your own pace, then better to visit in autumn or spring.
In summer, head for Saint-Jean-Cap-Ferrat, where there are three excellent beaches, with the Plage de la Paloma our own particular favourite for sheer natural beauty, although we admire less the restaurant prices.

Or down the road from Nice try Villefranche-sur-Mer, a lovely sandy beach, but without quite the hussle and bussle of its neighbour.
The Cap d'Antibes also offers the beautiful Plage de La Garoupe.
Nearer the Italian border there is also Menton, a picturesque village, with an equally pleasant pebbly beach. Fewer tourists than many other areas of the Côte d'Azur.
Bonnes Vacances!
For the latest in-depth analysis, and access to a Helpline, subscribe to our news service at France Insider.
France Insider is a subscription-based offer which has replaced our previous free Newsletter.