Blue Flag on 358 Beaches in France
The environmental label 'Pavillon Bleu' has been awarded to 358 beaches in France this year.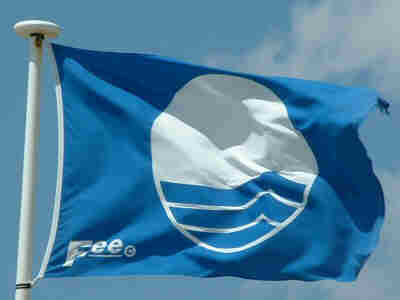 The Pavillon Bleu label is part of a world-wide certification process created in 1985, awarded to those beaches that respect stringent environmental and safety standards.
Last year, 341 beaches in 124 communes of France were awarded the label.
Although four communes have dropped off the list this year, the number of beaches gaining the award has risen by 17.
Heading up the list with the largest number of Blue Flag communes is Languedoc-Roussillon (26), followed by Provence-Alpes-Côte-d'Azur (20), Pays de la Loire (15) and Basse-Normandie (11).
Five new communes enter the list:
Royan (Charente-Maritime)
Tamnies (Dordogne)
Nevez (Finistère)
Gouville-sur-Mer (Manche)
Banyuls-sur-Mer (Pyrénées-Orientales)
The award is made to those communes who respect a series of criteria on the environment, the management of water, safety, rubbish, and environmental education.
In particular, the award requires that:
Water quality is at least Category A (good quality), with at least five analyses during the season;
Presence of rubbish bins on the beach;
Availability of drinking water;
Adequate level of safety and sanitation facilities;
Programme of environmental education.
As well as the certification of beaches, the Pavillon Bleu award is also granted to marina that meet similar criteria.
The full list of Pavillon Bleu communes and beaches can be found at Pavillon Bleu Beaches
For the latest in-depth analysis, and access to a Helpline, subscribe to our news service at France Insider.
France Insider is a subscription-based offer which has replaced our previous free Newsletter.