Carcassonne Airport Set for Major Facelift
Wednesday 04 January 2012
A major investment programme totalling €55 million is to be carried out at Carcassonne airport over the next seven years.
Chief amongst the improvements will be a new passenger terminal, as well as a new system for processing baggage.
The runway will also be re-laid, and there will be improvements to the fire station, car parking and other infrastructure services.
The news will be welcomed by the tens of thousands of passengers who arrive and depart there each summer on Ryanair flights from the UK, when this small regional airport is stretched to breaking point.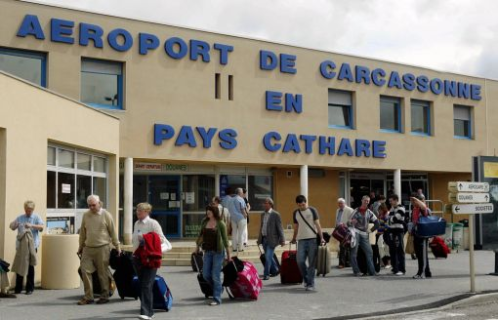 The quality of passenger processing and baggage handling at the airport during the busy summer months has been heavily criticised by airport users. The level of passenger services is also very limited.
The only commercial airline to use the airport on a regular basis is Ryanair, who fly to several destinations to the UK and Ireland for most of the year, as well as recently opened up connections to Billund in Denmark and Porto in Portugal.
So it is perhaps not surprising that it is frequently spoken of as 'Ryanair airport'.
The airport is actually owned by the Regional Council of Languedoc-Roussillon, and last July the French conglomerate Veolia won a fierce battle with the Chambre de Commerce for the contract to manage the airport for the next seven years.
Veolia have been charged with the task of increasing passenger traffic at the airport from the current circa 400,000 a year to 500,000 a year by 2017, through the opening of new destinations and attracting new airlines.
That may well be a challenge, for the region is well served by airports, with competition from Montpellier, Beziers and Perpignan, as well as the major international airport at Toulouse, which has seen significant growth in recent years.
The vast majority of the proposed investment will come from the regional council, with additional participation from the Conseil Général of Aude and the town councils of Narbonne and Carcassonne itself.
For the latest in-depth analysis, and access to a Helpline, subscribe to our news service at France Insider.
France Insider is a subscription-based offer which has replaced our previous free Newsletter.