Summer Ferries to France 2018
With the main holiday season around the corner, what are the cross-channel ferry options for travellers to France?

In recent years the choice has declined significantly, for whilst there remain four operators and nine destinations for you to choose from to cross the Channel, there is limited competition for each route.

Nevertheless, prices on most routes are generally cheaper or commensurate with those in the past. As always, it depends on just when you travel.

Those planning to travel across the Dover Straits are able to select from two ferry companies – DFDS and P&O – as well as the more expensive but quicker road/rail option of Eurotunnel.
There are also routes from South and South West England to ports in Brittany and Normandy operated by DFDS, Brittany Ferries and Condor Ferries, although the latter is now almost entirely a service between Poole and the Channel Islands.

MyFerryLink (ex SeaFrance) left the scene in 2015.
A summary of the destinations to France operated by these companies is shown below.
Ferries to France




Dunkirk

Calais

Dieppe

Le Havre

Caen

Cherbourg

St Malo

Roscoff

Brittany Ferries

-
-
-
X

X
X
X
X

Condor

-
-
-
-
-
-

X
-

DFDS



X
X
X
-

-
-
-
-

P&O

-

X
-
-

-
-
-
-
Those looking to get across the Channel as cheaply as possible should clearly take one of the routes across the Dover Straits.
There are some very competitive offers around, but the quickest and most regular route is Dover-Calais. Travel time of the ferries is around 1 hour 30 minutes and there are more crossings that you can shake a stick at.
If you do not have easy access to Dover, or you want to make the journey part of the holiday, then a crossing from one of the ports on the South West coast of England to Brittany or Normandy would probably make better sense.
Brittany Ferries take you to the Brittany and Normandy, with a good range of routes, with prices that reflect the quality of the service and the longer destinations. They operate out of Plymouth, Portsmouth and Poole.
It you cannot make up your mind, or travel arrangements favour it, then most companies offer single tickets, so you can go with one company, and return with another.
Tickets in the summer for a family of four from Dover to Calais can be had for around £110 peak season, although prices will be several hundred pounds for a family of four on one of the longer Brittany and Normandy routes.
A summary of the routes is as follows:

i. Dover-Calais - The most popular and shortest route, a journey time of around 1 hour 30 mins, with DFDS and P&O Ferries competing for it, with peak-season prices still under £100 return and with a profusion of sailings each day.

ii. Dover-Dunkirk - This route only has one operator (DFDS with up to 12 crossings day and night), but it probably only makes sense for travelling to Belgium or Germany or if you are staying in Northern France. Prices commensurate with those to Calais and a journey time of two hours.

iii. Newhaven-Dieppe - Similarly, there is only one operator for this route (DFDS), but it is a route well worth considering, if only to enjoy this lovely town. Three sailings daily and a journey time of around four hours.

iv. Portsmouth-Le Havre - DFDS pulled out of this route in 2014, leaving the way clear for Brittany Ferries as the sole operator with sailings 7 days a week, with overnight sailings out and a journey time of around 5 hours for the return.

v. Portsmouth-Caen - As an alternative to Le Havre, Brittany Ferries also run a ferry out of Portsmouth to neighbouring Caen three times a day, with a journey time of nearly 6 hours or overnight.
vi. Portsmouth/Poole - Cherbourg - Further south along the French coast to Cherbourg and Brittany Ferries have a regular high-speed crossing from Portsmouth taking just 3 hours. Longer and overnight sailings also from Poole.

vii. Portsmouth/Poole-Saint-Malo - The attractive town of Saint-Malo is a popular destination. Brittany Ferries have seven sailings a week out of Portsmouth. Overnight sailings out and 9-hour day sailings back. They no longer offer the route from Plymouth. Condor Ferries continue to offer a service from Poole, but only via Guernsey or Jersey, where you will change ship.

viii. Plymouth-Roscoff - The furthest destination south in France sailed by the ferry operators is to Roscoff on the tip of Brittany, to where Brittany Ferries have nine sailings a week, with a journey time of around 6 hours or overnight.

ix. Portsmouth/Plymouth-Bilbao/Santander - If you are heading for the Basque Country and the Pyrenees then Brittany Ferries sail to the Spanish port of Santander out of Plymouth or Portsmouth (and Cork, Ireland), and to Bilbao out of Portsmouth. On these routes you will spend 20-32 hours on-board, with the choice of either a luxury cruise or a cheaper no-frills 'économie' ferry, but it is certainly the most relaxed way to reach these destinations.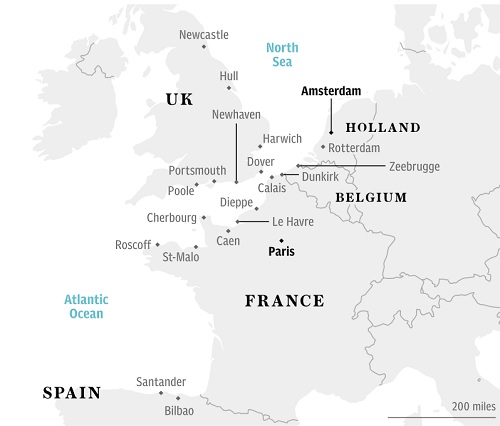 Where to Book?
All the companies have easy to use on-line booking websites, so you can book direct either at Brittany Ferries, P&O, or DFDS.
Alternatively, try a booking agent, who can sometimes offer the best late deals, so they may be a better bet if you are travelling at the last minute.
One the best around is Direct Ferries who offer an excellent website with a direct comparison of all of the routes that are available. An alternative site is aferry. You can book a ticket on these sites at no additional cost.

Whomever you decide to go with be careful about the websites you use to book your tickets. Some agents have websites with names very similar to the operator, so watch out for this trick.
Bonnes vacances!

For the latest in-depth analysis, subscribe to our news service at France Insider.
France Insider is a subscription-based offer which has replaced our previous free Newsletter.