Coach Services in France
The coach service network in France is developing rapidly, but it is still at a formative stage, writes French coach and rail traveller Lewis Smith.

Before the Loi Macron passed on 6th August 2015 long distance coach travel within France was effectively prohibited. An earlier article explains the convoluted and restrictive pre-Macron legal framework, whose main purpose was to protect the railways.

Since Macron we now at last have the possibility of serious coach journeys within France, plus more internationally, and the availability of these new services opens up affordable travel possibilities to former prisoners of the SNCF.
The train is the most civilised way to travel, if you can afford it. Yet it is no secret that the SNCF seeks to abandon non-TGV main line train services in the provinces; they have said as much, they have already degraded services, and their unhealthy investment in alternatives - Blablacar for car sharing, OuiBus for coach services - shows their lack of heart.
While the new coach possibilities are mostly of interest because of their much cheaper fares, they also sometimes offer journeys impossible or impractical by rail.
However, coaches are an unknown quantity to the French, viewed with suspicion, so the services will take a long time to become known and used.
For now, although the vehicles are modern and comfortable, the infrastructure is poor, often shabby, inhospitable, ill served with information.
The number of operators involved makes finding a journey tedious: until you know the ground, you need to look at all the web sites. And be warned that some of them are turgid - slow to load, slower to run, unresponsive to the point of being almost unusable.

A useful site to compare the offers available is Comparabus. Not only does it show coach services, but also comparative rail, car sharing and flight offers.

According to the public transport regulatory body Arafer, there are 191 routes, serving 150 towns and cities, offering nearly 900 direct connections. Since opening of the market nearly 2 million passengers have been transported.
Not surprisingly, two-thirds of the routes go through Paris and routes currently offered are mostly the major axis, with scant coverage of intermediate places. The most popular routes are Paris-Lille, Paris-Lyon and Paris-Rennes.
The new regulations allow regional councils to oppose coach travel between intermediate towns closer than 100km, to protect TER rail services; and this is happening.
All of this should improve with time as the 'car' becomes established.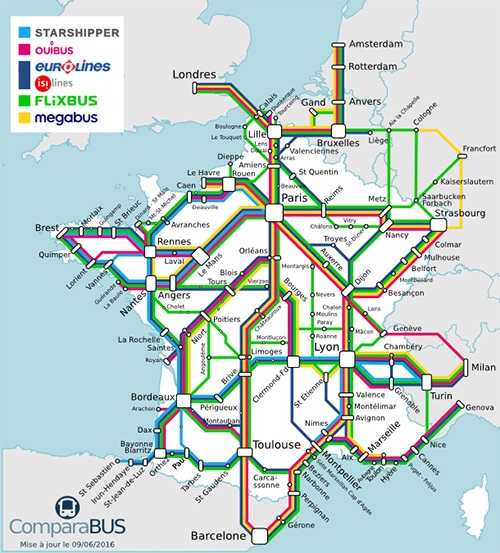 Operators
There are currently seven operators, but the situation is evolving and there is already the prospect of a merger between two of the operators - Ouibus and Starshipper.
Once the dust has settled fares are likely to rise, but they are always going to remain attractive to younger travellers and those on a budget.
A summary of the current players is shown below. Ticket prices are more even with some operators than others: Megabus are very variable, but the general price advantage over rail is enormous, being typically one-third of the rail price, often better.
ALSA

(www.alsa.es/en)
Spanish owned, with the emphasis on services to/from Spain. Paris terminal Gallieni. There appears to be some liaison with Eurolines: Alsa journeys shown to London are on Eurolines website.
EUROLINES

(www.eurolines.fr)
Part of the Transdev group, the long established international operator, whose French internal interest is served largely by IsiLines. Their own offerings within France are intermediate towns on international routes. Paris terminal Gallieni.
FLIXBUS

(www.flixbus.fr)
German owned with a fleet of 76 vehicles. It has the most extensive network, with more unique routes than other operators, and integral offerings to/from Germany. Its Paris terminal is Porte Maillot. A downside of FlixBus is that its schedules vary according to the day of the week, making journey planning difficult.
ISILINES

(www.isilines.fr)
Part of the Transdev group, and closely associated with Eurolines with whom it shares the Gallieni Paris terminal.

MEGABUS (

www.megabus.com)
Part of the Scottish Stagecoach group, well known in the UK. Their initial venture into France some years ago was London/Paris, then other international routes, which now include their ambitious London-Paris-Toulouse-Barcelona and London-Paris-Lyon-Turin-Milan services. Twice daily, no half measures. Plus others internal and international routes. Paris terminal is Quai de Bercy.

(Editor Update 18/09/16: Megabus have stated they are pulling out of their operations in France, which are transferring to Flixbus. No details of whether existing services will be maintained are available.)



OUIBUS

(fr.ouibus.com/fr)
Owned by the SNCF, who have started to show OuiBus journeys among train ones on their rail web site. The current market leader with 267,000 passengers. The Paris terminal is currently Quai de Bercy. In the process of merger with Starshipper.
STARSHIPPER

(www.starshipper.com)
Self-owned French, a smaller operator, with some original routes; 32 vehicles. Porte Maillot is their current Paris terminal. Some services vary by day of week, but their web site does offer decent timetables to aid comprehension.
Travel Tips
If you are travelling across Paris by different operators the terminal matters: no Victoria Coach Station here. They are widely separated, and it helps not to have to change between them.

The stations used are:

Porte Maillot -

by the périphérique opposite the Palais des Congrès. The base of FlixBus and Starshipper, it also hosts also the shuttle coach service to Beauvais airport, France's low-cost flight centre.

Quai de Bercy

- on the SW (river) edge of Parc de Bercy. Central but difficult to find. The terminal of Megabus and Ouibus.

Gallieni

- the base for Eurolines, IsiLines and Alsa. The easiest to find from/to the metro station, and with a large commercial centre nearby.
France is big country for coach - even train - travel, and journeys may well not fit into a day. Consequently, overnight travel is important, and many routes offer this possibility.

If you can support two consecutive night journeys, they offer the prospect of a day in Paris (or wherever) for a song.

For a journey to London you have the choice of going by day to Paris, then overnight to London, or overnight to Paris and by day to London. However, if you are going far beyond London in the UK it is better to go by day to Paris, overnight to London, and continue by day in the UK.
There are currently some 15 journeys daily between Paris and London: 9 in the daytime and 6 overnight. Of these, the 4 Megabus offers are through services from/to Toulouse-[Limoges] ex Barcelona, and Lyon ex Milan.

The possibilities can be interesting, for example, one can leave Limoges or Lyon in the dead of night and be in London the same afternoon; or leave London after lunch and be in Paris late the same evening.
Bon voyage!