Toughening of Driving Offences in France
Wednesday 01 February 2012
New and tougher driving offences have been introduced, mainly as a response to new technology being used in vehicles.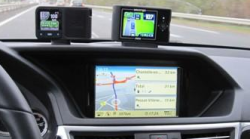 The reforms do not come as a great surprise, for since his election in 2007 President Sarkozy has made it a personal crusade to cut road deaths.
As a result, several thousand new speed cameras have been installed, and there has been far greater vigilance by the police in enforcement of the law.
The President's actions appear to have met with some success, for the number of deaths fell below 4000 for the first time in 2010, although he has not achieved his target of getting the number down below 3000 deaths a year.

Hence, perhaps the reason for some further tightening of the cord.
Speed Camera Detectors
The most significant and controversial of the new measures is a ban on the use of speed camera warning devices.
In future, possession of an avertisseur de radars is punishable by a fine of €1500 and loss of six points on the licence. The police have been granted powers of seizure, which can include the vehicle itself if the device cannot be removed from the vehicle.
By way of dispensation, the use of warning devices that signal 'accident black spots' (where there may or may not be speed cameras), will continue to be permitted. The accident black spots have yet to be defined by the government.

Simultaneously with the introduction of the new offence the government have reached agreement with the main manufacturers - Coyote, Inforad or Wikango - to remove radar detection functionality from their equipment.
Those with existing speed camera detection systems are required to bring them into conformity with the regulations, a process which can be done over the internet, by simple deactivation of the function, or by a visit to the garage for those devices built integrally into the car. Older versions not capable of being altered will need to be removed from the vehicle.

For those with GPS via a Smartphone, then it will be necessary to charge a new version available over the internet e.g. App Store, Android Market.
Around 20 million motorists in France are affected by the regulations and just how many of them are going to come into line with the new regulations remains an open question.

In a recent survey carried out by a French consumer's body only 37% of those interviewed stated that they proposed to make their equipment compliant. The vast majority were of the view that the only reason the equipment had been banned was to raise more revenue through speeding fines.

Not only is there the customary level of non-compliance by the French of driving laws they do not like, but there are also practical problems of enforcement.

The police have been given no powers to interfere with a GPS or Smartphone to check whether a radar warning device is installed. Drivers can present a certificate of conformity, but if they merely tell a police officer it conforms, it remains unclear if the police can do anything other than accept what they have been told - unless they have direct evidence to the contrary.
There is already evidence of fake 'certificates of conformity' being available on the internet, and there are clearly problems of enforcement against visiting drivers and vehicles registered in another country.
Speed Camera Warning Signs

The outlawing of detection devices follows on from a decision earlier this year to start removing speed camera warning signs from all roads.

Not only are they (slowly) being removed, but information about the location of fixed radars will no longer be made publically available.
The government has withdrawn from their own website the map indicating the location of speed cameras.

In most cases, it seems the speed camera warning signs are being replaced by speed warning signs (radars pédagogiques), which simply signal your speed, not notice of a camera. These signs may be placed at any distance from the speed trap itself, contrary to the previous practice, when warning signs were placed at several hundred metres from it.

Breathalyser Controls

New measures have also been introduced to deal with drink driving.
Where a car is fitted with a breathalyser alcolock (éthylotest antidémarrage) it is obligatorily for the driver to use it prior to starting the vehicle. Failure to do so is punishable by a fine of €750.
All vehicles will be required to be equipped with a breathalyser kit. The test kits will be generally available from chemists (and possibly other outlets) and will cost between €1.50 to €2. In the event of non-respect of the rule then it will be punishable by a fine of €17. The planned operative date for this rule is 1st April 2012.
The breathalyser kit joins the yellow safety vest and warning triangle in the list of equipment that has become compulsory in vehicles.
Other Measures
The main other measures are:
Increase in the fine for use of a mobile phone while at the wheel, from €35 to €135, with the points penalty rising from 2 to 3 points.The use of a hands-free phone remains legal.

Use of a television screen in the vision of the driver (other than GPS) will be punishable by a fine of €1500 (previously €135) and loss of 3 points.
The fine for a non-conforming registration plate increases from €68 to €135.
Driving on the hard shoulder will be punishable by a fine of €135 and loss of 3 points.
Motorcylists and their passengers will be required to wear a reflective vest, a law likely to be operative from 1st Jan 2013.
Judges will be granted access to the driving record of those before the court on a driving offence.

Motoring organisations have criticised the new measures, claiming that greater priority should be given to prevention and education, rather than continued 'repression'.

For the latest in-depth analysis, and access to a Helpline, subscribe to our news service at France Insider.
France Insider is a subscription-based offer which has replaced our previous free Newsletter.