Most Expensive Autoroutes in France
Toll charges apply on most autoroutes in France, with rates that vary between €0.03 to €0.16 per kilometre.
According to a survey carried out by the website '
L'Internaute
', the most expensive autoroute is, perhaps not surprisingly, in the Paris region.
Exceptionally, the 15 kilometres of the A14 between Paris and Orgeval in the Yvelines will cost you €0.53 per km. However, the rate here does depend on just when you travel, with €0.53 being the peak time rate.
Rates on other autoroutes also vary, depending on season, time of day and type of vehicle.
To travel between Bordeaux and Pau you can use the relatively new A65 autoroute, at a cost of €0.16,6 per km, being the second most expensive autoroute in France. This mainly privately financed autoroute is something of a white elephant, with traffic around 20% lower than expectations.
The A19 between Sens (Yonne) and Artenay (Loiret) makes up the podium, at €0.15,3 per km, which is also another autoroute that has never attained the traffic levels in the original plans.
The cheapest autoroute is the A75 between Beziers (Hérault) and Clermont (Puy-de-Dôme) at only €0.2,96 per km. There is similar rate for the A20 between Vierzon and Montauban.
The average charge was €0.10 per km.
Tolls are payable on almost all of the 12,000 kilometres of the motorway system in France, except around the city centres and some motorways in the North - Brittany, Alsace.

The motorways are run by private companies who collect the charges, which is why they vary.

If you are a regular user the most convenient way to travel on the motorways is by the automatic toll payment system called
'Liber-t'
, an electronic transponder that enables you to go directly through toll stations. The system is more readily available if you hold a French bank account, but UK residents can also order their badge from
Sanef
.
The following table shows the per kilometre price of the autoroutes in the survey. The rates are for the whole section of the motorway, which in some cases can be very long, such as the 486 kilometres of the A89 between Libourne (Gironde) and Balbigny (Loire), or the 224 kilometres of the A8 (La Provençale) between Coudoux (Bouches-du-Rhône) and the Italian border.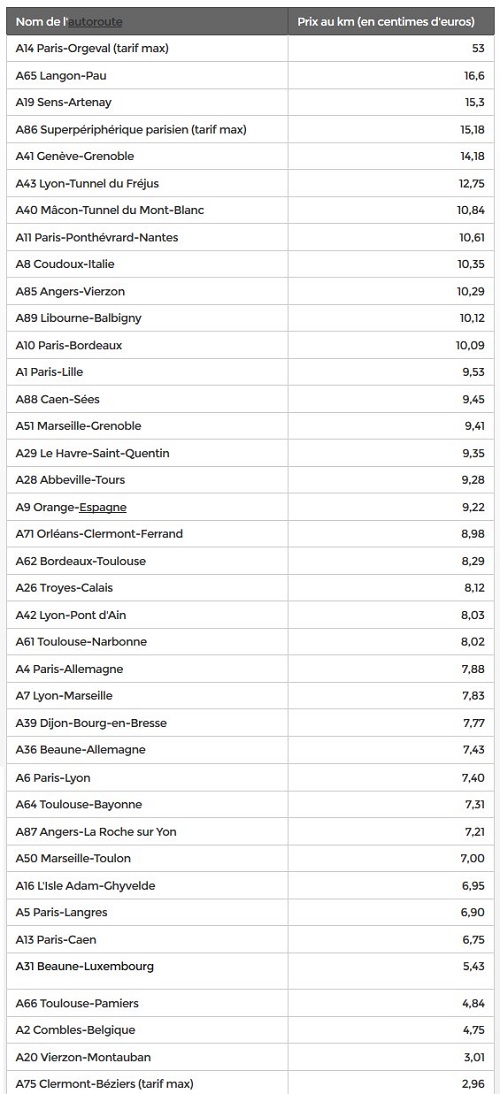 Source: L'Internaute