Skiing Prices in French Ski Stations
Thursday 07 February 2019
A new study provides an insight into the comparative cost of skiing in around 50 ski stations in France.

According to the study, carried out by French travel agents Locasun, the average cost of a week's skiing varies between €400 and €800 per person.
The figure includes the cost of accommodation, ski lift pass and the hire of ski equipment.
The cheapest stations in the study were in the Pyrénées, with the stations of Guzet Neige and Cauterets each coming in at a shade under €400 each. Another Pyrenean station, Les Angles, came in fourth lowest at €430 a week.

In the Alps the cheapest stations were Super Dévoluy (€425) and Chamrousse (€430).

Topping the list of the most expensive locations were the Haute-Savoie stations of Val d'Isère (€806), Megève (€755) and Méribel (€714).
The study showed that, not only did the cost of accommodation vary substantially, between €549 (Guzet Neige) and €1,557 (Val d'Isère), but it was the same for the cost of ski passes and equipment.
Thus, the most expensive ski passes were in Megève and Chamonix, each costing €315 for a week, whilst the cheapest was Aussois (€161) and La Norma (€167).
Similarly, the cost of ski equipment hire ranged from €49 in Pyrénées 2000 to €128 in Val d'Isère.
The graphic below gives a list of the stations in the study and the total cost per week per person.*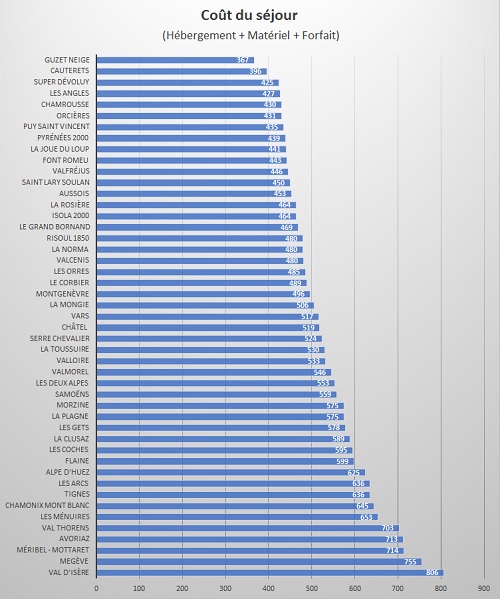 The study also examined the cost per kilometre of piste, which gave a rather different picture.

If measured on this basis many of the most expensive stations provided better value for money, such as Châtel, Morzine, Les Gets, Les Ménuires, Val-Thorens, Avoriaz and Méribel-Mottaret, with average prices of between €0.90 and €1.20 pp per km of piste.
In contrast, some of the stations in the otherwise cheaper Pyrénées had the least value for money, with the stations Cauterets, Pyrénées 2000, Font Romeu and Guzet Neige averaging between €9 to €11 pp per km of piste.

The graphic below shows the complete list.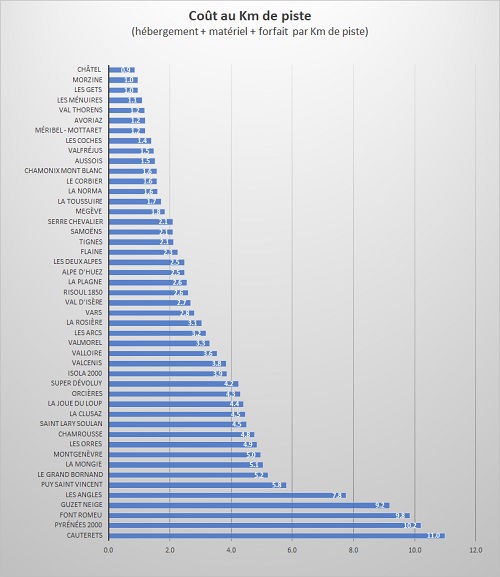 *The prices were taken over the most recent winter school holiday period. Prices can be expected to be cheaper outside of school holiday dates.
For the latest in-depth analysis, subscribe to our news service at France Insider.
France Insider is a subscription-based offer which has replaced our previous free Newsletter.