South West France High Speed Line Finalised
The detailed route of the proposed high-speed rail network for the South-West has been revealed.
The new lines will run between Bordeaux and Toulouse and from Bordeaux to the Spanish border.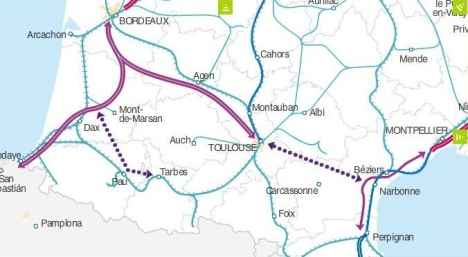 Last year, the government announced the trace of a 1000 metre corridor for the new lines, which has now been narrowed down to a more definitive route.
There now only remains three areas where further studies are being carried out to determine the final route. These are in the commune of Arcours in the Basque country, at Agen in Lot-et-Garonne and at Auvillar in Tarn-et-Garonne.
After a lot of debate, there also now seems to be agreement between all the parties concerned on the new 340 kilometre length high-speed link between Tours and Bordeaux. Work is shortly to commence on the line, which is expected to be operational by July 2017.
When it opens the travel time between Bordeaux and the capital Paris will take a mere 2 hours. When the Bordeaux-Toulouse line is operational in around 2020, the travel time from Toulouse to Paris will be 3 hours.
There continues to remain strong opposition to the new lines - particularly the link between Bordeaux and Spain - on grounds of cost, the destruction of the environment, and the lack of efficiency. Opponents argue that a better option would be to upgrade the existing lines.
The maps giving the trace of the routes can be found at Grand Projet Ferroviaire du Sud-Ouest
For the latest in-depth analysis, and access to a Helpline, subscribe to our news service at France Insider.
France Insider is a subscription-based offer which has replaced our previous free Newsletter.