Speed Camera Blackspots in France
A recent report from the French Ministry of Transport highlights the growing success of the speed camera network.

According to the report, the cameras picked up over 25 million infractions in 2016, an increase of over 20% on the previous year, and a new annual record.
Revenues from the cameras has reached around €1 billion a year, ten times the figure generated in 2005, and more than half of all revenues generated from road traffic offences.
Much of the increase is down to the wider deployment of the cameras, with the number on the roads having quadrupled since 2005 to around 4,700 in 2018.
The cameras are also more reliable, precise and versatile, with more extensive use in recent years of mobile, autonomous cameras (pictured) that are being used where roadworks are taking place. The cameras can operate in both directions and they are also able to discriminate between different types of vehicles.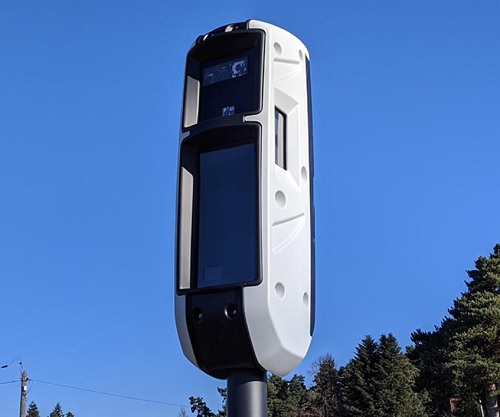 Whereas in 2015 the autonomous cameras flashed around 80,000 times, in the last couple of years the figure has bounded to over 1 million drivers flashed.
Drivers in France have dubbed the cameras "sérial flasheurs", such is the frequency with which drivers are being caught by them.
Some of the cameras are now also being deployed where there is otherwise the need to slow down traffic on a temporary basis.
In the overwhelming majority of cases the presence of a fixed speed camera is indicated by a roadside sign, but the distance between the sign and the camera itself can vary from several hundred metres to 2 kilometres. There may also be more than one camera on the stretch of road, although they may only be signalled by one notice.
The use of specific equipment to detect radars or other equipment that gives the location of radars is outlawed in France.
Foreign Vehicles

Of course, a flashing camera does not always end up with the driver being fined, either due to the plates not being clearly visible, an inability to trace the driver, or because it was a foreign registered vehicle. Around 25% of French registered vehicles and over 30% of foreign registered vehicles that are flashed escape a fine due to an inability to enforce.

Since 2013, agreements have been reached with a growing number of countries in Europe to supply driver address details, so that they can be sent a penalty notice, with enforcement possible in their own country. The UK opted out of the directive, but it was extended to them in May 2017 by virtue of a ruling in the European Court of Justice, for UK drivers speeding in Europe. The DOT has stated publicly it will not apply it after Brexit. See an earlier article we wrote on the issue at Cross-Border Driving Offences.

Departmental Records
Those departments heading up the list with the greatest number of infractions are Paris, Rhône and Alpes Maritimes, which between them clocked up over 2 million flashes.
By contrast, those departments with the lowest number of flashes were the Lot, Hautes Pyrénées and Aveyron, who collectively had 88,000 flashes. Not only is the amount of traffic lower in these areas, but they generally have far fewer cameras installed on the roads.
Nevertheless, the most cautious drivers (or most ineffective cameras?) are to be found in the department of Sarthe (Pays de la Loire) where the 22 cameras installed only each flashed an average of 1,560 times.

The highest rates per camera were located in Seine Saint Denis (Ile-de-France), where each of the 15 cameras flashed an average of nearly 30,000 times.

Blackspots

Most of the best performing cameras are generally located on motorway networks, where traffic is higher and a change in the maximum speed limit is often indicated. Others occur in those locations where roadworks are taking place.
The most successful camera last year was located on the A9 autoroute at Montpellier, direction Perpignan, where the speed limit had been reduced from 100km/hr to 90km/hr, and where the camera flashed 159,200 times.
The top twenty of the best performing cameras is shown on the table below.
Speed Camera Blackspots 2016


No




Road



Commune

Direction

No Flashes

1
A709

Montpellier (34)

Nîmes > Perpignan

159,520

2
A10

Briis-sous-Forges (91

Paris > Regions

120,750

3
A8

Les Adrets de l'Estérel (83)

Aix-en-Provence > Nice

116,288

4
A40

Étrembières (74)

Chamonix > Mâcon

115,194

5
A6

Bessey-en-Chaume (21)

Paris > Lyon

108,502

6
A1

Le Bourget (93)

Regions > Paris

106,373

7
A7

Bourg-les-Valence (26)

Marseille > Lyon

103,002

8
A7

Pierre-Bénite (69)

Marseille > Lyon

98,747

9
A10

Janvry (91)

Regions > Paris

95,732

10
A8

Menton (06)

Italy > Nice

93,673

11
A10
Tours (37)

Paris > Bordeaux

90,646

12

D383

Saint-Fons (69)

Paris > Marseille

88,644

13
A10

Massy (91)

Paris > Regions

87,372

14
A86

Drancy (93)

Bobigny > Saint Denis

86,563

15
N844

Bouguenais (44)

Inner Ring

85,189

16
A6b

Paris (75)

Inner Ring

84,117

17
A31

Maxeville (54)

Metz > Nancy

78,679

18
A16

Calais (62)

Dunkerque > Boulogne sur Mer

78,269

19

Périph

Paris (75)

Inner Ring

76,865

20
A6a

L'Hay-les-Roses (94)

Paris > Regions

76,662

Source: Sécurité Routière

Penalties

If you are caught speeding then the level of the fine and nature of the punishment depends on the gravity of the offence, ranging from €45 (if paid promptly) to €1500. The highest fine is only payable if you are exceeding the speed limit by more than 50km/h, when you may also incur suspension of your licence for up to three years and six points on the licence (out of 12), confiscation of the vehicle and mandatory attendance on a driving course.
Although EU nationals resident in France are not required to drive on a French licence, those who suffer a points penalty are required to obtain one. In practice, this does not always occur for, as is so often the case in France, the administrative and judicial apparatus cannot keep pace with the laws they are supposed to implement.

In July this year the maximum speed limit on roads without a central reservation is being reduced from 90km/h to 80km/h, and there is every prospect that many drivers will be caught out by this measure.
For the latest in-depth analysis, subscribe to our news service at France Insider.
France Insider is a subscription-based offer which has replaced our previous free Newsletter.