Speed Camera Blackspots in France
There were nearly 13 million speed camera offences in France last year, and newly released information shows just where motorists are being caught.
It was the speed camera installed on the A41 between Annecy and Genève near to Saint-Julien-en-Genevois (Dept 74) which was the most active in the year. The camera is located on a 50km/h speed limit road, just before the Swiss frontier. It flashed an average of 462 times per day, 29 times the national average.
The fine for exceeding the speed limit in a 50 km/h area starts at €135 (although early payment reduces the level of the fine), so this camera alone brought in €22 million in the year.
In second position with 364 flashes per day was the camera situated along the 'Quai du 4 septembre' on the RD1 in the Boulogne-Billancourt district of Paris, where again a 50 km/h speed limit is in force.
The podium was completed by the camera at Bédarrides on the A7 between Lyon and Marseille, which flashed 323 times on average per day.
The figures have been obtained from the French government by the motoring magazine Autoplus.
The departments in France with the highest number of speed camera offences were Essonne, Nord and Val-de-Marne. At the other end of the scale those departments registering the fewest number of offences were Aveyron, Dordogne and Vendée.
Of course, as the figures take no account of the amount of traffic on each of roads, it is not possible to say just how effective is each camera as a percentage of traffic that passed by it.

There are nearly 2000 fixed speed cameras on French roads, an increase of around 100% over the past four years.
Last year total revenues received by the government from speed camera offences was €630 million, of which around €100 million was late payment fines.
In total last year the government obtained €1.7 billion in revenues for traffic offence fines.
The graphic below shows the top 50 most active fixed speed cameras, the speed limit in force, and the number of times it flashed in the year.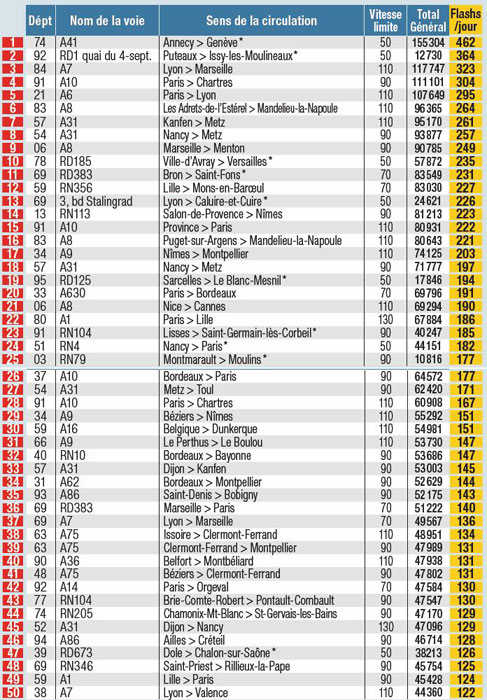 For the latest in-depth analysis, and access to a Helpline, subscribe to our news service at France Insider.
France Insider is a subscription-based offer which has replaced our previous free Newsletter.