Bordeaux–Toulouse–Spain TGV Rail Project
The French government last month approved a corridor for the new high speed TGV lines in South West France.
These new lines will run between Bordeaux and Toulouse, and from Bordeaux down to the Spanish border.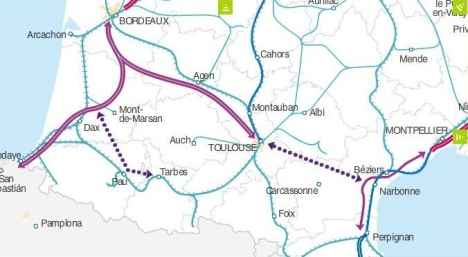 The lines will link with the recently approved extension of the high speed service between Bordeaux and Tours. Together they will reduce the journey time between Paris and Bordeaux from three to two hours, and put Toulouse within three hours of the capital.
Utimately, the aim is to link the Atlantic coast and the Mediterranean with a high speed rail system, and to also create a high speed route through to Madrid and Lisbon.
The corridor approved by the government for the new lines is 1000 metres wide. Further more detailed studies will now take place to reduce the width of the corridor down to 500 metres.
This work is due for completion by autumn 2011, with final approval of the route by the government scheduled for the end of 2011.
There will then be a public enquiry, and assuming all goes to plan, the new lines will be operational by 2020.
However, there remain a number of difficult infrastructure issues still to resolve, and there is strong public opposition in some areas, as we indicated in an earlier article (see below).
The financing of the whole route has also yet to be finalised, a large part of which will come from the regional and departmental councils.
There are 148 communes in six departments of the South West affected in some large or small way by this project. The departments are Haute Garonne, Gironde, Landes, Lot-et-Garonne, Pyrénées Atlantiques and Tarn-et-Garonne.
You can find detailed plans of the routes on the Grands Projets du Sud-Ouest (GPSO) website.
For the latest in-depth analysis, and access to a Helpline, subscribe to our news service at France Insider.
France Insider is a subscription-based offer which has replaced our previous free Newsletter.