Tour de France 2009
The Tour de France, the most prestigious cycle race in the world, will start on 4th July.
Around 15 million spectators line the route to watch the race, an occasion like no other in France that seems to unite a whole nation.
Countless millions around the globe also watch on their television. The number of television stations covering the event almost outnumber the number of cyclists in it!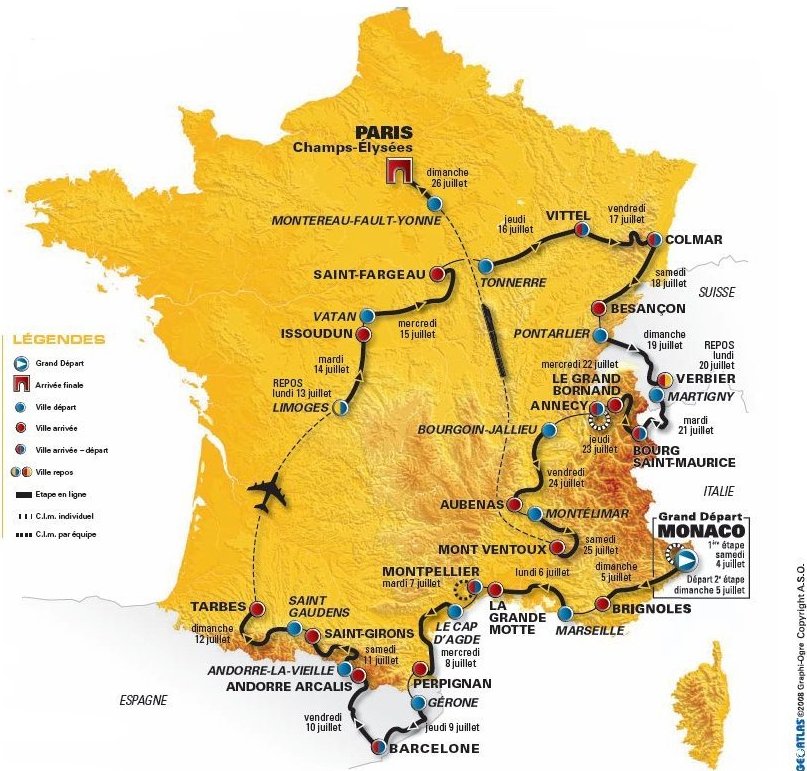 Source: Tour de France official webiste
This is the 96th Tour de France. The race takes place over 15 days. It cover 3,500 kilometres, during which the riders average a staggering 40km/h over the 21 stages of the race.
Before the race starts tradition dictates that a presentation of all the teams takes place, with a 15 kilometre parade that will take place on July 2nd to introduce the 20 teams and their 250 riders.
This year the race will start in Monaco, and it will also pass through Spain, Andorra and Switzerland.
As usual the race will end in the Champs Elysées in Paris. The day before the finish the cyclists will face the brutal Mont Ventoux in Provence, a mountain that caused the death of British rider Tommy Simpson in 1967, and a peak that the celebrated Belgium cyclist Eddie Merckx described as 'impossible' . This is the first time in the history of the race that this mountain is to be climbed on the 20th stage and represents a huge sports challenge for the particpants.
Another novelty this year is that, after an absence of two years, the team time trial comes back.
Inevitably, in the lead up to the race the issue of doping has dominated the headlines. There has been a huge polemic around the racer Tom Boonen, who was tested positive for cocaine last April. Tour organizers have banned the former world champion from this year's race, but Boonen has made a legal challenge to the decision arguing that his drug use was outside the competitive framework of the sport.
Who will succeed Carlos Sastre to the title this year? Will Lance Armstrong win the race for the eight time? We will know the answer on July 26th!
Tour de France 2009

Date
Stage
Where
Length
4 July
1
Monaco (individual time trial)
15.5 km
5 July
2
Monaco to Brignoles
187 km
6 July
3
Marseille to La Grande-Motte
196.5 km
7 July
4

Montpellier

39 km
8 July
5
Le Cap d'Agde to Perpignan
96.5 km
9 July
6
Gérone to Barcelone (Spain)
181.5 km
10 July
7
Barcelone to Andorre Arcalis
224 km
11 July
8
Andorre-la-Vieille to Saint-Girons
176.5 km
12 July
9
Saint-Gaudens to Tarbes
160.5 km
13 July

Rest Day

14 July
10
Limoges to Issoudun
194.5 km
15 July
11
Vatan to Saint-Fargeau
192 km
16 July
12
Tonnerre to Vittel
211.5 km
17 July
13
Vittel to Colmar
200 km
18 July
14
Colmar to Besançon
199 km
19 July
15
Pontarlier to Verbier
207.5 km
20 July

Rest Day

21 July
16
Martigny to Bourg-Saint-Maurice
159 km
22 July
17
Bourg-Saint-Maurice to Le Grand-Bornand
169.5 km
23 July
18
Annecy (individual time trial)
40.5 km
24 July
19
Bourgoin-Jallieu to Aubenas
178 km
25 July
20
Montelimar to Mont Ventoux
167 km
26 July
21
Montereau-Fault-Yonne to Paris Champs-Élysées
164 km