The Wines of Languedoc-Roussillon
The wines of Languedoc-Roussillon offer some of the best value wines in France today.
The arch of land from the Spanish border to the mouth of the Rhône is perhaps the oldest area of vineyard cultivation in France, and certainly the largest.

Up until about 25 years ago, to the chagrin of politicians all over Europe, a vast quantity of unwanted wines flowed from it onto the market.

A somewhat better wine-growing tradition had been preserved in the hills, but under such unfavourable economic conditions that a future hardly seemed possible.

Times have changed. The best local traditions and varieties have been preserved, they have been refined with new processes and now produce some truly memorable wines.
Far-sighted producers and financiers have realised that the sun-drenched slopes of the region had enormous potential in their soils and climate, and new generation of local producers have adopted an entirely new approach to winemaking, with an accent on quality not quantity.
Nevertheless, poor working morale, peasant stubbornness and complicated ownership have slowed progress.

The influence of the local cooperatives has proved to be a major obstacle, although it is now much less prominent. To this day, some of the more stubborn winegrowers turn a blind eye to the fact that more dynamic regions and wineries, especially in Spain's southern neighbour, are a serious competitor.
Be that as it may, progress has been dramatic, first in the winemaking itself and then in the marketing.

The introduction of carbonic maceration was a decisive first step. It elicited juicy flavours from inexpressive grapes such as Carignan, which had never previously seemed possible.

Today the process is well established and there is already an impressive list of wineries and cooperatives offering good bottlings from the aromatic grapes preferred by consumers.

The best producers, and no longer the cooperatives, now set the direction for quality and for style, although even the more enlightened cooperatives have adapted and are now putting together a package of good, fruity wines at fair prices.
As might be expected in such a large region, there continues to remain a confusing multiplication of different areas and classifications, a quandary that should not be a cause for exasperation, but the opportunity for an adventure. The variety of styles and grape varieties are such that a consumer could spend a lifetime trying to learn about them all and still not get tired of the experience.

One of the most interesting winegrowing areas is nearer the Pyrenees, in the Roussillon.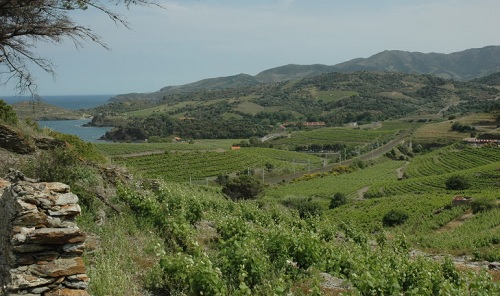 The wines of the area, roasted by the sun, benefit from the excellent reputation for an ancient and unique wine called,
vin doux naturel
. It is practically unknown outside the country's borders, but the French are so proud of it that they see its counterpart, port wine, as a poor substitute.
Unfortunately, the immense quantities of the wines are difficult to sell. Bottles that have been allowed to reach soft maturity in large barrels for 20 years or longer must be offered for sale at ridiculously low prices. Vintage from as Rivesaltes, Banyuls, Maury or the pure Muscat de Rivesaltes offer incredible value for money.

The
vins doux naturels
allegedly owe their origin to Arnaldus da Villanova, a doctor and scholar from Montpellier, who brought the distillation apparatus from Moorish Spain to France in the 13th century. He was the first to naturally add
eau de vie
to strong wines in order to stop fermentation and maintain a high sugar content, hence the addition '
doux naturel
' (naturally sweet).
The natural alcohol content of such wines must not be less than 15 percent and is frequently higher. Tradition-conscious manufacturers store it in pear-shaped 30-litre glass balloons, called
bonbonnes

.
Vin doux naturel
is prepared in many different styles and degrees of sweetness and is aged for different lengths of time. Some venerable representatives rest for 20 years and more in large barrels.
Banyuls, the main area for such wines, is located in the extreme south of Roussillon, on the border with Spanish Catalonia. Their wines are made from late harvested, overripe grapes. The vineyards are terraced steep slopes high above the Mediterranean Sea, where the grapes are almost roasted by the sun and develop an enormous sugar content.
The yields are limited to 30 hectolitres per hectare. Immediately after fermentation the young wines, which still contain a lot of residual sugar due to the extremely high degree of ripeness, are sprinkled with alcohol. They are then aged for up to two and a half years in wooden barrels. Banyuls wines are indestructible, the best ones improve in the bottle for several decades.
Of strong interest in recent years are the enormous red wines produced in the Roussillon, grown on slate soils, which produce wines of great power and enormous character.
The protected coastal hills around Perpignan and further inland the valleys of Agly and Tet provide formidable reds.

Their best exponents are prepared from Grenache, Syrah, Mourvdre and Carignan, sometimes reveal the structure of a Châteauneuf-du-Pape, but are rounder and softer.
An increasing number of wine growers send their wines into oak barrels and even let them mature in the bottle, so that their strength is paired with complexity. But the level of wood ageing is controlled, so that it does not dominate the fruit.

The best wines are entitled to Côtes du Roussillon or Côtes du Roussillon-Villages status.

Since 1949, the small 600-hectare red wine zone around the beautiful village of Collioure has had its own appellation for a concentrated red wine mainly from Mourvedre and Genache. Nowhere north of the Spanish border is there anything comparable. Opulent, rich and powerful flavours.
Rosés play an important role as a source of income, even if their quality sometimes leaves something to be desired.

Some of the best producers are also demonstrating what is possible with white grapes, even in such a hot region.

Visit and enjoy.

For the latest in-depth analysis, subscribe to our news service at France Insider.
France Insider is a subscription-based offer which has replaced our previous free Newsletter.