Electricity in Your French Home
Wednesday 01 December 2010
At last, a decent guide in English to the rules and techniques of electricity in your French home.
It has taken a French publisher to do it, but a new easy to understand guide to domestic electricity systems in France has recently been published.
The book 'Electricity in Your French House' by Thomas Malcolm is published by Eyrolles.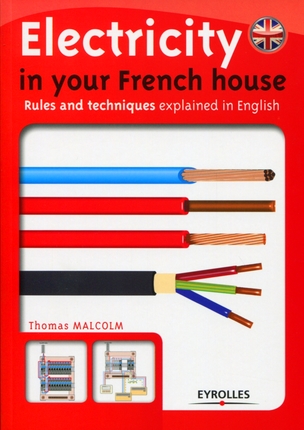 We asked English qualified electrician Nigel Teale, who lives in France, to review it for us.
''The book is very well written and one of its great merits is the quality of diagrams that are provided.
At 80 pages, it is not a long book, but there is as much as you are likely to need to carry out most work in the home.
Whether you are best advised to always do so on a DIY basis is questionable!
Nevertheless, even qualified electricians will get a lot from it, as it sets out the regulations that apply in France that they will need to adhere to.
Even if you are not proposing to do any electrical work yourself, the book provides a useful primer for those seeking to understand just what their electrician may be doing, and whether they are doing it in the right way!
At the end of the book there is also a very useful glossary of terms in English and their French equivalent.
The book is also useful in setting out the responsibilities of the electricity supplier EDF, including the system of tariffs that apply.
There is a consideration of switchgear and metering, including a good explanation on earthing.
Consumer units and the different RCD switches are shown along with easy to understand explanations.
The book considers simple circuits and the different types of cable to be used.
Particular attention should be paid to these chapters on simple circuits, showing the two way light circuit in schematic form, but which in practice shows that all cables are terminated in a 'joint box'.
Trenches for burying cables for external work are shown in diagram form.
There is also a chapter on television and IT sockets and networks.
A chapter on electrical work in bathrooms covers all aspects of earthing and pipework bonding for compliance with current safety requirements
An interesting and informative reference book for both qualified electricians or do-it-yourself enthusiasts that I can fully recommend. Perhaps also a good present for hubby's Christmas stocking!''
The book can be purchased on Amazon, or directly from the website of the publisher.