The Cost of Complementary Health Insurance
The average cost of a complementary health policy for a couple in their 60s is €213 per month, according to a recent national survey of such policies.
As regular readers will be aware, in France only a percentage of your health costs are covered by the State, generally up to 70%.
To meet the remaining costs you either need to dip into your pocket at the point of delivery or take out a complementary (voluntary) 'top-up' insurance policy, called assurance complémentaire santé.
In a recent review of such policies offered to those aged 60+, carried out by a French comparison website, the monthly cost of such a policy for a couple ranged from €163 to €234. The average was €213 a month or €2,556 a year.
The survey showed that the most expensive policies were in Paris and Provence-Alpes-Côte d'Azur, primarily because the charges imposed by specialists are higher in these areas.
The Nord and Pas-de-Calais also had some of the highest premium rates, although the explanation for this was not given in the study.
Cheapest rates were to be found in Alsace or Lorraine, in North West France, where the social security system is slightly more generous.
The graphic below shows the percentage difference from the national average by department.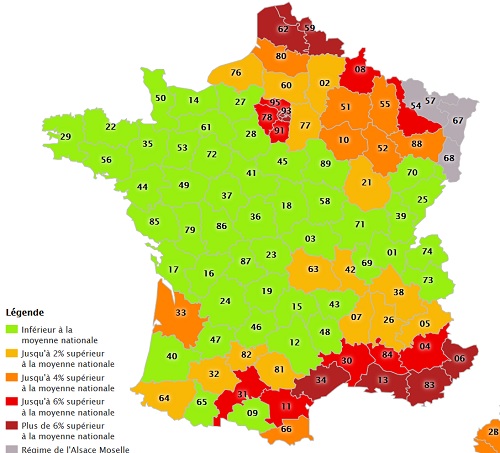 Although the review examined only policies specifically catering for persons 60+, it did not examine in detail the benefits offered under the policies, so some of the differences in rates may also be explained by minor contract variations.
All of the policies offered a basic level of support towards dental and optical treatment, where the level of reimbursement by the State is low, but only the most expensive policies provided any substantial cover.
By stripping out any cover for such treatment from a complementary policy (most are 'pick and mix') it is possible to get a lower rate, an option that might be suitable for some households.
You can discuss your health insurance requirements with our English language speaking health insurance partner, who is able to offer competitive policies for both private health and 'top-up' cover.
For the latest in-depth analysis, subscribe to our news service at France Insider.
France Insider is a subscription-based offer which has replaced our previous free Newsletter.