GP Shortages in France
Nearly half of GPs in France are unwilling to take on new patients, according to a new survey.
At a time when hospital doctors and nurses in France are taking industrial action over a shortage of funding, the government have also received a timely reminder of a similar crisis that exists amongst general practitioners.
According to an alarming survey carried out by the consumer group Que Choisir, 44% of GPs questioned stated that they were unwilling to take on new patients.
In addition, a further 9% stated that they would wish to see the patient before making a decision.
The survey found large differences between departments. Whilst in the in Bas-Rhin, Meurthe-et-Moselle and the Pyrénées-Atlantiques less than 20% of general practitioners refused new patients, the refusal rate rose to 70% in Allier, 78% in Charente and to 86% in Seine-et-Marne.
In France, it is particularly important to register with a GP (médicine traitant), as you will otherwise obtain a lower level of reimbursement of your health costs. The process is known as the 'parcours de soins'.
Although the government has acknowledged that there is a shortage of doctors in some sparely populated parts of the country (known as déserts médicaux), surprisingly, the QC survey showed that the greatest difficulties do not occur in these areas but rather in medium-sized municipalities.
Thus, the refusal rate was 33% in those areas with less than 3,000 inhabitants, 34% in municipalities with more than 100,000 inhabitants, but 52% in towns with 10,000 to 100,000 inhabitants!
The authors consider that this was probably because doctors in rural areas, knowing that the population was deprived of alternatives, were more reluctant to refuse patients.
Where the GP stated they would refuse new patients, 71% stated they already have too many patients, while 14% say they were about to retire.
According to the Conseil National Ordre de Medicins the number of GPs has been declining in France for many years; since 2010 the total number has fallen by 7%, from 94,261 to 87,801, and is projected to decrease to 81,804 by 2025.
However, it has not been a uniform decrease across the country, as increases have occurred in some departments - in Loire-Atlantique, Morbihan, Finistère, Ille-et-Vilaine, Gironde, Charente Maritime, Calvados, Pyrenees Atlantiques, Haute-Garonne, Savoie, Haute-Savoie, and Haute-Alpes.
According to government around 8% of the population (2.5 million people) live in areas where there is a shortage of GPs, a figure that is projected to rise to 12% over the next few years.

GPs are free to set up practice where they wish, and so there is a surfeit of GPs in some popular areas, whilst poorer areas or those with a low population may be less well served.

The government are trying to turn it around with abolition of the 'numerus clausus' on the training of doctors and financial incentives for doctors to set up in one of the déserts médicaux. In addition, there is investment taking place in new multi-disciplinary medical centres, and financial incentives for retired doctors to continue working, amongst other measures.

However, that has not been enough to satisfy the GPs, who recently announced that they will be taking industrial action in protest at the lack of funds and work pressures.

The graphic below shows a broad sweep of the density level of GPs per 100,000 population. In the lightest areas the density may be as low as 42/100,000, whilst in the darkest areas over 200/100,000.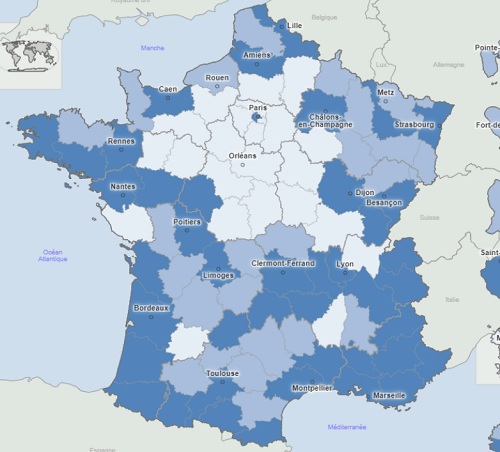 Source: Conseil National Ordre de Medicins 2019
Advice
You can discuss your health insurance requirements with our English language speaking health insurance partner, who is able to offer competitive policies for both private health and 'top-up' cover.
For the latest in-depth analysis, subscribe to our news service at France Insider.
France Insider is a subscription-based offer which has replaced our previous free Newsletter.