Your French Health Insurance Card
Tuesday 03 September 2013
In France the 'carte vitale' is the sesame that confirms your registration in the French health system, granting you access to health services.
The carte vitale is a 'smart card' containing your photo and other information that provides identification and authorisation for reimbursements of health care.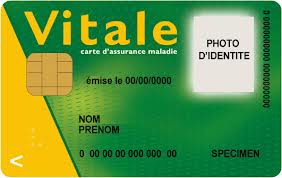 Although not strictly speaking a payment card, if you also carry complementary health cover (top-up insurance) the card also enables you in most cases to obtain health services without the need to make any payment. This process is called the 'tiers payant'.

In such circumstances, when you visit your local doctor or chemist, the card is merely inserted into a card reader and no cash changes hands. However, not all doctors and chemists use the system.

From time to time you may be asked to pay separately for additional services not covered by the health system or your top-up insurance, and not all doctors and chemists have the card readers, but this is now rare.
The same card is used whatever statutory health regime through which you are covered, including those who obtain health cover in France through an S1 certificate of health entitlement from their home EEA country.
The card should not be confused with the European Health Insurance Card (EHIC), which you will need to obtain separately for health cover outside of France.
When first admitted into the health system it will take several weeks for you to be issued with the card, in which case you will need to pay for treatment at the point of care, for which you will be given a receipt, called a feuille de soins.
You will need to renew the card each year, but this is done very easily through terminals (bornes) located at certain surgeries, chemists and at your local health authority.
For the latest in-depth analysis, subscribe to our news service at France Insider.
France Insider is a subscription-based offer which has replaced our previous free Newsletter.