Crime Levels in France in 2015
The French national crime statistics agency have recently published a analysis of the crime levels in each department of France for 2015.
The
Observatoire national de la délinquance et des réponses pénales (ONDRP)
is the national crime statistics agency in France, who each year publish a voluminous analysis of crime levels in France.
There were 3.7 million violent crimes and burglaries reported in the year, with violent crimes up by 4% and burglaries remaining at the same level.
Average violent crimes in the year were 8.09 per 1000 population whilst average burglaries were 5.53 per 1000 population. (We shall resist the tempation to make international comparisons because of the differences and shortcomings in reporting and data collection.)
The study shows highest levels of violent crime in the the Ile-de-France, and around the cities of Marseilles (Bouches-du-
Rhône
), Lille (Nord) and in Nice on the Cote-d'Azur.
Lowest levels of violent crime were recorded in the departments of
Lot, Gers, and
Lozère

.

The graphic below shows violent crime by department. Those departments coloured green had violent crimes of less than 5/1000 population; orange departments 5 to 10 per 1000; coloured red 10 to 15 per 1000; and coloured black 15+ per 1000.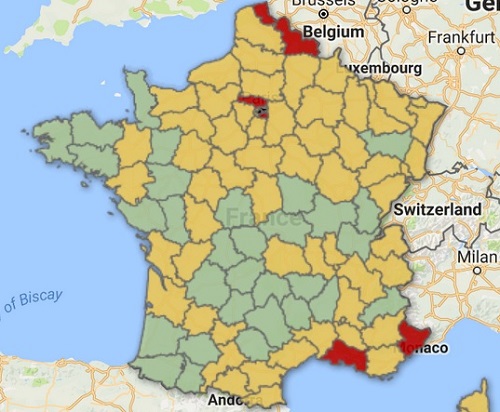 The pattern of figures for burglaries was somewhat different, with the Auvergne-
Rhône

-Alpes region showing a high concentration of such crimes in the cities of Lyon
(Rhône)

and
Grenoble (
Isère

), alongside Toulouse
(Haute-Garonne

), Beziers (Herault) and Nantes (Loire Atlantique), and several more rural departments, notably Lot-et-Garonne and Tarn-et-Garonne.

At the other end of the scale the lowest ratio of burglaries was in
Lozère,

Manche
and

Cantal.

Using the same legend as above, the graphic below shows the average levels of burglaries for each department.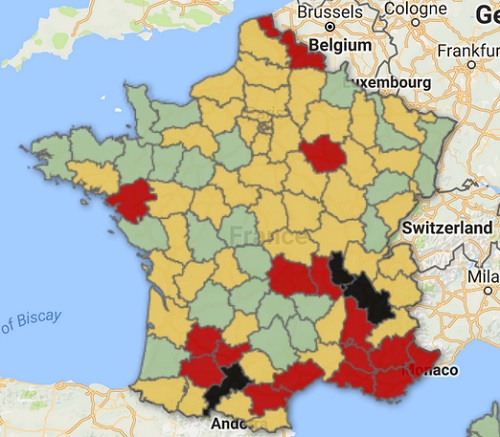 If read in conjunction with one another, then those departments with the worst crime figures are Seine-Saint-Denise, Paris, and the Bouches-du-Rhône.

On the same basis, the safest departments of France are Lozère, Cantal and Manche.

The actual figures for each department are shown below.


Crimes by Department 2015


Region/Dept



Violence per 1000 pop

Burglaries per 1000 pop


AUVERGNE-RHONE-ALPES



Ain
4.71

5.61

Allier
4.90
4.34
Ardèche
4.09
4.33
Cantal
3.92

2.65
Drôme
7.25
6.60
Isère
7.00
8.67
Haute-Loire
4.03
3.13
Loire
6.86
6.05

Puy-de-Dôme

5.10
6.33
Rhône
9.87
9.55

Haut

e-Savoie
5.50
5.95

Savoie

5.70
5.58

BRITTANY




Côtes d'Armor

4.27
3.41

Finistère

4.90

3.23
IIe-et-Vilaine
5.60

3.56

Morbihan



4.23
4.29
BOURGOGNE FRANCHE-COMTE

Belfort

7.62
4.27

Côte-d'Or

5.25
4.29
Doubs

8.20
4.77
Haute-

Saône

5.58
3.79
Jura

4.86
3.79

Nièvre

4.43
5.42

Saône-et-Loire

4.90
4.28

Yonne



7.89
5.16
CENTRE-VAL DE LOIRE

Cher

5.77
5.28
Eure-et-Loir

6.43

3.71
Indre

4.84
3.88
Indre-et-Loire

5.17
4.43

Loir-et-Cher



5.39
4.77
Loiret

7.62
5.74
GRAND EST

Ardennes

7.13
3.93
Aube

8.28
6.37
Haute-Marne

6.42
4.39
Marne

8.97
5.59
Meurthe-et-Moselle

6.86
3.86
Meuse

5.60
4.50
Moselle

5.99
4.21
Bas-Rhin

6.87

2.94
Haut-Rhin

6.71
3.82
Vosges

4.77
4.35
HAUTS DE FRANCE

Aisne
6.90
5.61
Nord
10.12
6.27
Oise
7.36
4.40
Pas-de-Calais
9.13
4.94
Somme
7.47
4.41

ILE-DE-FRANCE

Paris
15.72
5.73
Seine-Saint-Denise
18.19
5.82
Haute-de-Seine
9.50
4.26
Val-et-Marne
10.31
5.25
Val d'Oise
11.73
5.06
Yvelines
7.97
4.55
Essonne
8.93
5.22
Seine-et-Marne
9.42
5.56


NOUVELLE-AQUITAINE

Charente
6.12
4.56
Charente-Maritime
5.26
5.61
Corrèze
4.65
3.48
Creuse
3.91
3.70

Deux-Sèvres
4.25
4.03
Dordogne
4.13
3.85

Gironde
7.40
5.80
Landes
4.52
3.50
Lot-et-Garonne
5.72
7.31

Pyrénées-Atlantiques

4.51
4.06
Haute-Vienne
4.59
4.25
Vienne

5.21
3.98

OCCITANIE

Ariège
5.58
5.21
Aude
6.77
6.53
Aveyron
4.32
3.22

Gard
6.88
5.79
Gers
3.61
6.40
Haute-Garonne
8.74
8.88
Hautes-Pyrénées
4.75
4.85
Hérault
9.00
7.00

Lot

3.50
4.90
Lozère
3.72
2.35

Pyrénées-Orientales

8.31
5.29
Tarn
4.64
5.38
Tarn-et-Garonne
5.45
7.81

NORMANDY

Calvados

5.92
3.06
Manche

4.41
2.36
Orne

5.73
4.09
Eure

6.38
4.48
Seine-Maritime

7.87
4.92

PAYS DE LA LOIRE

Loire-Atlantique

6.52
7.22
Maine-et-Loire

4.95
4.05
Mayenne

4.62
2.89
Sarthe

6.94
3.90

Vendée

4.21
3.80
PROVENCE-ALPES-COTE D'AZUR

Alpes-de-Haute-Provence

7.20
6.38
Alpes-Maritimes
10.21
6.85
Bouches-du-Rhône

11.47
7.51
Hautes-Alpes

4.87
4.23

Var

8.91
6.73
Vaucluse

7.59
6.56