Where Do the French Retire?
With so many of us choosing France as a retirement destination, a new study casts some light on where the French themselves decide to retire.
According to a study carried out by the French pensions authority, the Caisse Nationale d'Assurance Vieillesse (CNAV), the overwhelming majority of indigenous French retirees simply decide to stay put!
It shows that out of a total retired population of nearly 14 million, around 1 million live outside of France, about 7% of the retired population.
However, nearly 75% of these expatriates were born abroad and are naturalised French. So, in reality, only around 2% of French retirees born in France live outside of their country of birth.
Of course, the figures exclude the circa 2 million under retirement age who make a living outside of France, notably in London.

Nearly 60% of those retirees who relocate abroad choose to stay within Europe, mainly to Spain, Portugal and Italy.

Around one-third relocate to Africa, a feature of the large number of naturalised French citizens from Algeria, and the historic popularity of Morocco and Tunisia as retirement destinations.

Nearly half of retired persons continue to live in the department of their birth. Only around 1% of those who choose to stay in France relocate elswhere within the country following their retirement.

Those who do so for the most part originate from the North West and North East, to start a new life on the Atlantic cost and the Côte d'Azur.

In equal measure they flee the big towns and cities, primarily those of Paris, Marseille, Lyon, Toulouse, Clermont-Ferrand, Saint-Etienne and Lille.

The image below illustrates this internal migration.
If measured by net movement (incoming/outgoing), in recent years the most popular department for French retirees has been the Gironde, in Aquitaine.

By contrast, the department that appears to be the least popular has been Indre-et-Loire, in the Centre region.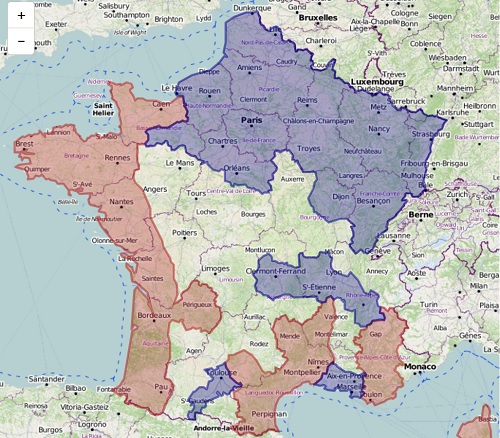 Related Reading: