French School Calendar 2015/16
Wednesday 02 September 2015
La rentrée scolaire started in France this week, with holiday dates for the winter and spring terms varying by geographic zone.
There are 36 weeks of schooling each year in France, separated by 4 holiday periods.
In the interests of traffic and tourism management the country is divided into different geographic zones for school term and holiday dates.
The primary aim of this division is to ensure that there is no negative impact on the economy of the ski resorts in the Alps.

Around 30% of the annual income from tourism in France is brought in by the ski resorts, which have suffered in recent years over the spring period by the positioning of school holiday dates at the end of April/beginning of May. To deal with this problem the spring holiday has now been brought forward.

There has also been a substantial change to the zoning this year, to reflect the reorganisation of the regional tier of government, which reduced from 22 to 13 the number of regional councils.

The following graphic shows the three new zones:
Zone A - Orange
Zone B - Blue
Zone C - Green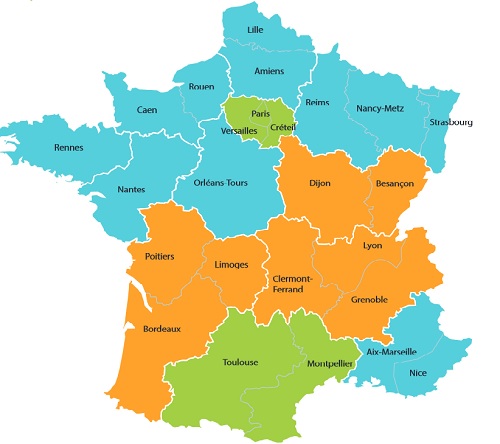 The school calendar for 2015/16 for each of these zones is shown below:
School Term and Holiday Dates 2015/16

Holidays

Zone A

Zone B

Zone C



Académies:
Besançon, Bordeaux,
Clermont-Ferrand, Dijon,
Grenoble, Limoges,
Lyon, Poitiers
Académies:
Aix-Marseille, Amiens, Caen,
Lille, Nancy-Metz, Nantes,
Nice, Orléans-Tours, Reims,
Rennes, Rouen, Strasbourg

Académies:
Créteil, Montpellier, Paris,
Toulouse, Versailles
Start of School Term
Classes start Monday 1st Sept
All Saints Holiday
End of classes Saturday 17th Oct
Classes return Monday 2nd Nov

Christmas Holiday
End of classes Saturday 19th Dec
Classes return Monday 4th Jan 2016

Winter Holiday
End of classes Saturday 13th Feb
Classes return Monday 29th Feb

End of classes Saturday 6th Feb
Classes return Monday 22nd Feb

End of classes Saturday 20th Feb
Classes return Monday 7th March

Spring Holiday
End of classes Saturday 9th April
Classes return Monday 25th April

End of classes Saturday 2nd April
Classes return Monday 18th April

End of classes Saturday 16th April
Classes return Monday 2nd May

Summer Holiday
End of classes Tuesday 5th July
Classes return Thursday 1st Sept