Service Charges in Apartments in France 2020
Service charges in apartments fell by an average of 2% last year, to reach an average of €49.95m2 pa.

The service charge payable by apartment owners in France covers the costs of management, maintenance and improvement of the building.
These charges are set by the apartment owners themselves through a general meeting, on the advice on the managing agents - the syndic.
The level of the charges will depend on numerous factors - the number of apartments, the location of the property, the services provided, the size of your apartment and the maintenance and improvement requirements of the building.
Last year, according to 'OSCAR' (l'Observatoire national des charges de copropriété de l'ARC), the average service charge for an apartment in a block having the full range of services was €49.95/m2, an decrease of -2% over 2018.

That means for an apartment measuring 60m2 the annual service charge amounted to €2,997.

The last time charges fell was in 2014 (-4.9%).
The main reason for the fall was a -14% reduction in heating costs, due to mild weather.
Conversely, all other charges increased, notably insurance (+5.7%) and management charges (+5.2%). Due to Covid, maintenance and improvement costs only rose marginally (+1%). The backlog in maintenance is likely to mean that maintenance charges will increase significantly over the next few years.
Accordingly, those apartments without communal heating would have seen their service charge increase last year.
The graphic below shows the average charge for an apartment that had the full range of collective services, including heating, caretaking, and lift access.
In such a case, as the graphic below shows, the three highest charges were for heating (€751), caretaking (€635), and repairs and maintenance (€432).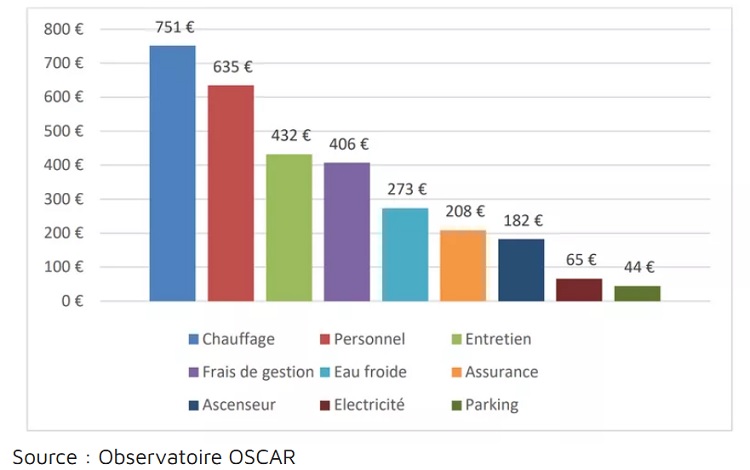 For the latest in-depth analysis, subscribe to our news service at France Insider.
France Insider is a subscription-based offer which has replaced our previous free Newsletter.