Neighbour Protests Against Six-Metre High Wall
The construction of a six-metre boundary wall fuelled a long-standing enmity between two neighbours.
In a case that was recently heard in the court of appeal in Bordeaux, two neighbours lived in adjoining semi-detached houses in the village of Coulounieix-Chamiers, near Perigueux, Dordogne.
To the rear of the two houses there was a common dividing wall 1.90 metres high and 4 metres long.
A couple living in one of the properties decided to raise the height of the wall to 5.90 metres the whole length of the wall, without the consent of their elderly female neighbour. Somewhat surprisingly, planning consent was obtained for the works.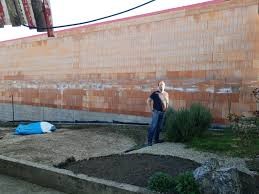 Despite the planning authorisation, their neighbour brought a legal action seeking demolition of the extension on the grounds that it constituted a neighbour nuisance (trouble anormal de voisinage), as the proximity and height of the wall deprived her of natural light and views and that the works had reduced the value of her property.
In court, she pointed out that the poor state of health of her neighbours could not constitute a justification for the works, especially since she herself, because of her age, could no longer take proper advantage of the upper floor of her home.
Furthermore, the extension constituted an infringement of her rights on a party wall, for which the only reasonable remedy was demolition of the structure.
In their defence, the couple stated that the work had been made necessary due to their health, although this was not explained in the court papers, but which did otherwise indicate that there was long-standing animosity between the two neighbours.

In addition, they argued that in densely populated urban areas, as in the present case, the sunshine and a view could not be immutable, and that given the north-eastern orientation of the property the loss of sunshine in their neighbours property was not significant.

They also disputed the poor aesthetics of the wall, pointing out that their neighbour had refused them the right of access to allow him to render the wall.
The judges ruled that there was a partial loss of view and light, enough to constitute a neighbour nuisance, but refused the claim for demolition of the wall.
They awarded damages of €18,500 to the complainant, equivalent to 20% of the value of their property, as well as costs.
It remains unclear from the written proceedings why there was no material consideration of the illegal nature of the construction on a common boundary wall. The fact that planning consent had been granted does not by itself override third-party property rights.
For the latest in-depth analysis, subscribe to our news service at France Insider.
France Insider is a subscription-based offer which has replaced our previous free Newsletter.