Departmental Population Densities in France
France has a population density less than half that of the UK, and there are a host of departments from which to choose if you prefer to be far from the madding crowd.
According to Insee, the French national statistical office, the population density in France is 118 persons per km².
That compares with a population density in the UK of 267 inhabitants per km².
Many departments having the lowest population density are located in more mountainous areas of the country such as is Lozère in Languedoc-Roussillon, where there are only 15 inhabitants per km².
Low densities are also found in other mountainous areas, such as Creuse ( 22/km²), Alpes-de-Haute-Provence (23/km²), Hautes-Alpes (24/km²), Cantal (25/km²), Ariège (31/km²) and Aveyron (31/km²).
However, there are several other departments with very similar levels but without the same geophysical characteristics.
They include Haute-Marne (29/km²), Gers (30/km²), Meuse (31/km²), Nièvre (32/km²) Indre (33/km²), and Lot (34/km²).
By contrast the administrative area with the highest population density is Paris, with 21,602 inhabitants per km².
The graphic below from Insee summaries the picture for each department of France.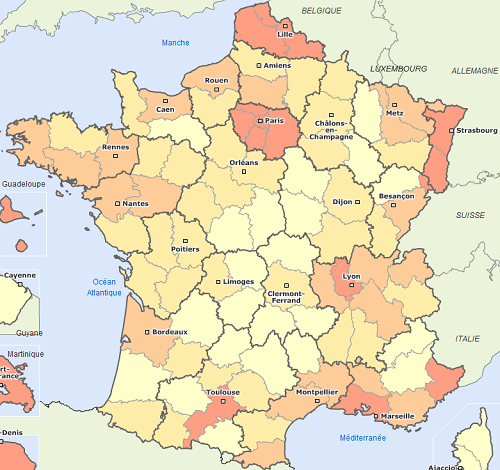 Key:
White: Less than 50/km²
Yellow: 50/km² to 100/km²
Orange: 100/km² to 200/km²
Red: Over 200/km²