Buying Ski Property in the French Alps
The British are continuing to buy in the French Alps, although in smaller numbers and with far greater caution.
According to Elise Pidolot-Raybaud of Rhone Alpes Property Services, "several years ago it was village properties that attracted many second home international buyers, but times have changed, as has the outlook", she says.
"With economic uncertainty the priority now for buyers is the security of their investment", says Elise.
Inevitably, this means most buyers are seeking properties closer to the resorts, although that does not automatically translate into a desire to buy at high altitude.
Elise considers that "buyers also want services and authenticity, so resorts need good shops, après ski and ease of access."
Nice village locations that meet those criteria are Villarabout and neighbouring villages on the ski bus route between St Martin de Belleville and les Menuires, as well as St Marcel and Le Bettex on the same bus route for the Trois Vallées, and Peisey Nancroix for the ski domain of Paradiski.
Bourg St Maurice is also very popular as it is a working town so open all year – it has direct access to skiing with the funicular to Les Arcs and it is close to other ski domains such as Tignes and Val d'Isère – la Rosière with access to skiing in Italy and Ste Foy Tarentaise. It is not a village, but offers so much it attracts more people than expected at first.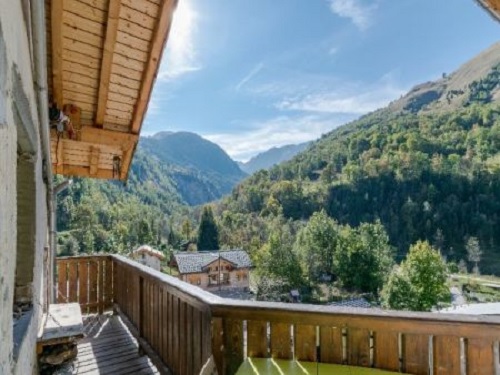 She has for sale in a village near St Martin de Belleville a duplex in an old barn that has been renovated. It is spacious (164m2) and at €395,000 a great price because it is in a village before you get to St Martin de Belleville, so less popular, but you get great value for your money, with easy access to the Trois Vallées. The village is lived in all year so you mix with the locals which is a real bonus if you make the first step.
Prices Resist
Of course, even that is a tidy sum, and the difficulty that confronts many buyers is that such properties are not always available at a price that is within their budget.
"Alternatively, those that stick rigidly to their chalet dream, but without the budget to match, buy in the villages further from the slopes", she says.
The difficulty of meeting aspirations is not helped by the fact that prices in the Savoie and Haut-Savoie have continued to stand up. Although on average prices may have fallen by around 5% in the past year, this figure needs to be read with caution, for the market is very diverse, with substantial variations between type of property and ski resorts.
Notaires in the region recently reported that sought after chalet properties in the popular ski stations are continuing to increase in price, whilst it is smaller studio properties where the market is morose in some areas.
There are a number of different reasons that explain this general resilience in the market, not least the prosperity of the Rhône-Alpes region, one of the most successful economic areas in Europe.
The economic power of the region is also matched by its strength as an all year-round leisure playground; many people buy to enjoy the winter sports, but they do so as a warm and beautiful summer destination, equally enjoyable for a range of outdoor activities during this period.
And if the British are buying in fewer numbers, they have, to a large extent, been replaced by international buyers from elsewhere, notably Asia.
Elise also considers the area retains several strategic advantages over some other major European mountain destinations. "It is cheaper than Switzerland, more accessible than Austria, and it is more of a 'safe haven' than Eastern Europe. It also has a fantastic range of resort areas for skiing where you can ski for long periods over great distances, not always the case elsewhere", she says.
Trois Vallées Retains Popularity
One of the most popular skiing areas continues to be the Trois Vallées, a domain that exemplifies the immense skiing space that exists in the Alps. With over 600 kilometres of slopes it is the largest ski area in the world.
Put that together with great infrastructure, good heights and plenty of services and you really have an unbeatable mix.
Inevitably it does come at a price, for it is one of the most expensive skiing areas in the Alps, with average prices of apartments around €6,000m² in the popular resorts, although once again with substantial variations between types of property and ski stations.
Different Perceptions
Elise considers that the lack of any major negotiation on prices is a surprise for some British buyers, who arrive in the area with the misguided belief that they should be able to negotiate a substantial discount on the asking price.
Sellers, by contrast, have an exaggerated view about value, so often push at the limits of what the market will take and generally resist attempts at any significant reduction in price.
"So one of the difficulties at the time", she says, "is the difference in perceptions about value between buyers and sellers, a perennial problem, but one that has become greater in recent years."
Thankfully, the conflict is to some extent eased by the wide variation in prices between different resorts, and from one type of property to the next, which gives buyers the opportunity to look around and minimise the compromises they need to make.
Thus, although prices in St Martin (ski-in, ski-out and après ski within walking distance) are in the region of €8 000m², those in Les Menuires, a purpose-built resort, with ski in, ski out and après ski, is in the region of €5,500m².
Surrounding villages that are not so close to the slopes, but have the navette to transport skiers, are around €3,500m² to €4,500m².
Whilst at Val d'Isère and Courchevel average prices for apartments are around €7,000, at Les Arcs and La Plagne they are less than half this figure.
Outside of the main skiing domains the Alps contain some wonderful gems. "One of my personal favourites", says Elise "is the traditional village of Champagny en Vanoise". The village is located south of Albertville in the beautiful Vanoise national park.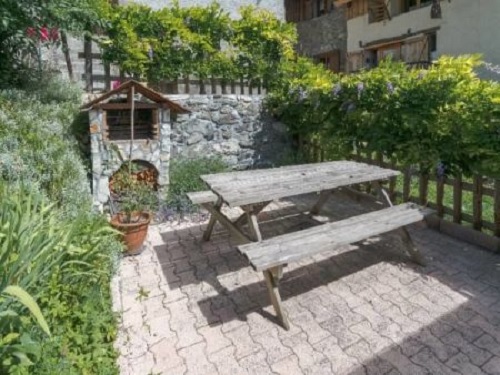 The image of the property adjacent is a village house in Champagny, which has been renovated for sale at €285,000. The property has 83m2 of floor space, with garden and balcony with great views and offers immediate access to the slopes.
"Just down the road - literally at the end of the road - lies its sister village of Pralognan-la-Vanoise, another spot with great character and charm", she says.
"The upmost favourite is Peisey Nancroix, better situated than Champagny, as it is more central to the whole Paradiski area."
"As might be expected", says Elise, "the closer to the resorts you go the more expensive are the properties, and where there is less room for negotiation. Generally speaking, sellers do advertise with the expectation of having to accept an offer, so a reduction of around 10% on the advertised price is often attainable."
Permanent Relocation
As well as second homes for holiday makers Elise says that there continues to be strong interest in living in the area on a permanent basis.
"In most cases it is not retired persons, but working families with young children. They are buyers looking for a particular lifestyle, who want their children to be bilingual, and who consider that relocation with them at a young age is important to ensure a smooth transition into a new way of life", she says.
"It is not unusual that one of the partners will retain their employment or business activity in the UK and join their family in France for the weekends and holidays", says Elise.
Not surprisingly, such buyers tend to prefer the lower lying villages for the services that are available and for the ease of access for travel to and from the UK.
So villages such as Les Avanchers, Brides, Montagny, Bozel, Landry or Seez are popular, as is the Haute Savoie department, due to its proximity with Geneva airport, with good links to many airports in the UK.
You can see other property listings Elise has to offer at Rhone Alpes Property Services.
For the latest in-depth analysis, and access to a Helpline, subscribe to our news service at France Insider.
France Insider is a subscription-based offer which has replaced our previous free Newsletter.