France's Empty Homes
There are 2.8 million empty homes in France and their location provides a useful indicator of just where the best bargains may be found.

According to the French national statistical office, Insee, at the end of 2015 there were 2,880,000 empty homes in France, equivalent to 8.2% of the total housing stock.
That compares with 1,992,000 empty homes in 2005 (6.3% of the total stock), an increase of 45% in 10 years.
Those properties vacant are divided equally between apartments and houses.

The vast majority are in the private sector, with only around 80,000 publicly owned housing units.
Unfortunately, no information is provided on the length of time the properties have been vacant, and it is safe to say that the vast majority of these homes are on the market for sale.
Nevertheless, in the UK the equivalent figure is around 650,000 empty homes, no less than four times lower than in France!

The graphic below shows the distribution of empty homes across the country. In those areas shown in red, over 10% of the housing stock is empty.
As can be seen, most of the empty homes are located in the centre of the country, but there is also a significant vacancy level in many other areas.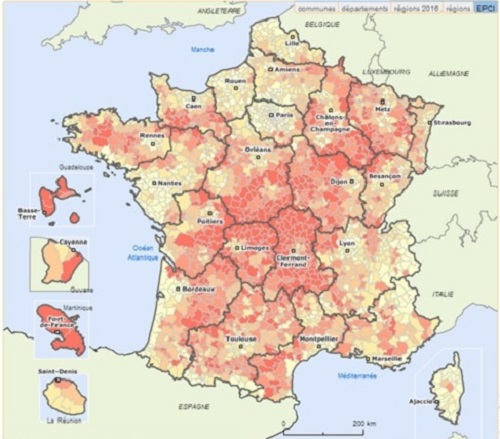 Source: Insee

For the latest in-depth analysis, and access to a Helpline, subscribe to our news service at France Insider.
France Insider is a subscription-based offer which has replaced our previous free Newsletter.