French House Prices in 2013
Wednesday 05 February 2014
House sales fell 'significantly' in 2013, but there was a more limited contraction in house prices, according to the French estate agents.
In their annual review of 2013, FNAIM, the national association of French estate agents, report that house prices outside of Paris fell by an average of 3% in the year.
This figure is broadly in line with those reported separately by some of the leading estate agent chains - Century 21: -1,8%, Laforêt: -2% and Guy Hoquet: -1,6%.

The notaires have yet to weigh in with their own annual perspective (on which we shall report in several months), but for the third quarter of 2013 they reported that over the previous 12 months house prices outside of the Ile-de-France fell by 2.3%.
On a regional basis FNAIM state that the largest falls in 2013 occurred in Franche-Comté (-6%), Brittany (-5.7%) and Languedoc-Roussillon (-5.3%).
In contrast, prices were more or less stable in Aquitaine (+0.2%) and Nord Pas-de-Calais (+0.1%).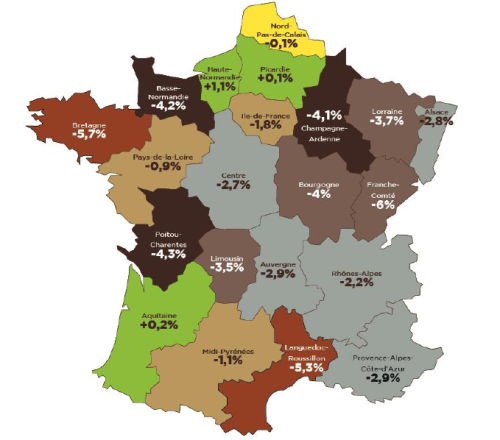 Source: FNAIM
As for sales, FNAIM state that the total sales in the year fell 5.1% to reach 668,000, the lowest since 2009 (594,000).

The largest falls were in Champagne-Ardenne (-8.7%), Alsace (-8.6%), and the Languedoc-Roussillon region (-7.6%) (where the slump in second homes sales was very noticeable), as well as in Basse-Normandie (-7.4%), Haute-Normandie (-6.8%) and the Ile-de-France (-6.6%).

The agents state that the number of sales has reached a level that occurred in 2008 when the subprime financial crisis broke.
They consider that neither buyers nor seller had an appetite to enter the market, with a weakness in both the number of properties being offered for sale and in the level of demand.

Outlook
Due to the large number of uncertainties currently in the market place, FNAIM are cautious about making any firm forecast for 2014.
They consider that interest rates are likely to rise in the year, which will dampen sales prospects. In addition, with the banks now demanding a respectable deposit from buyers, that is further reducing the level of demand.
As a result, they forecast sales this year will fall further to 650,000 and that prices will also fall again by up to -4%.

Their view is shared by the housing economists at Credit Agricole, although the main estate agent chains - Century 21, Laforêt and Guy Hoquet - all have lower forecasts for the year of a fall of around 2%.

The Institut de l'épargne immobilière et foncière (IEIF) consider prices will fall by at least another 3% in both 2015 and in 2016 due to tougher credit conditions and a stagnation in incomes.

However, as Guy Hoquet in particular points out, there are wide differences in the nature of the market, with a comparatively stable market for sales and prices in most of the major cities and towns, and a low level of demand in the smaller towns and rural areas.

The notaires in the third quarter also report on the market dynamics that are in play, stating that the sales of low priced property remain reasonably healthy, whilst at the upper end "properties are selling badly".
We add our usual caveat to all of this analysis for, as we have regularly indicated in this Newsletter, much of the information provided is of a skeletal nature. In addition, the databases that are used do have an urban bias, and are skewed towards properties at the lower end of the market, where most of the sales take place.

In contrast, our own, albeit, somewhat anecdotal evidence from our agents and private sellers suggests that the national figures substantially understate the fall in prices that has taken place in recent years in many middle to upper end country properties in France.

For the latest in-depth analysis, subscribe to our news service at France Insider.
France Insider is a subscription-based offer which has replaced our previous free Newsletter.