House Prices in France 2018
Thursday 07 February 2019
Several French estate agents have published reviews of the housing market for last year, but from a perspective that will be of little value to rural property buyers and sellers.

As is customary at the start of each year, last month the main estate agent chains in France published their separate analyses of the housing market.
The number of agents now prepared to have a go at the analysis seems to increase each year, with no less than five retrospectives available this year, from agents ERA Immobilier, Century 21, ORPI, Laforêt and Guy Hoquet.
The national association of estate agents FNAIM, and the on-line observatories of LPI-SeLoger and MeilleursAgents.com, have also chipped in with their own commentaries.
The problem for all of them, of course, is that none have a complete picture, with the branch network of the chains concentrated mainly in the towns and cities, and the observatories similarly only able to obtain access to a sample of the translations from their partner agents.

Moreover, as around 40% of properties are sold privately, a substantial number of sales cannot be measured by either the agents or the observatories.

As a result, the stats provided are very broad brush, and there is no almost information on the performance of the rural housing market.

That gap that may at least be partly filled later in the year with the annual reviews to be published by the notaires and the rural land agency SAFER. We shall be reporting on these reviews in due course, but our review of their reports for 2017 can be seen at
Departmental House Prices 2017
and
Rural House Prices 2017
.
So what do the latest reviews say?
Sales
If the level of sales was the only measure of the state of the housing market, then 2018 was another record year, with all agents reporting an increase over 2017 of between 3.1% and 3.9%, as is shown on the graphic below.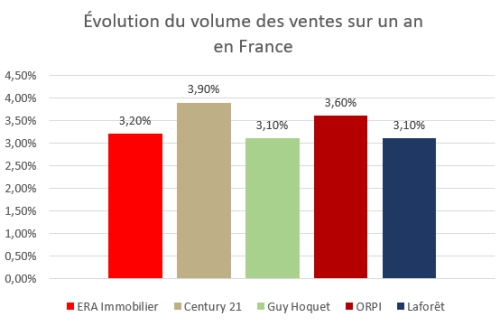 The national association FNAIM estimates that total sales in the year were 965,000, an increase of 0.3% over 2017, itself a record year.

Although the notaires have yet to report on the year, in their review of the market to 31st Oct 2018 they estimate sales of around 960,000.
No breakdown of the sales by region is provided, although Orpi state that one-third of their sales were in 10 departments, and that in 30 departments sales fell in the year.
All attribute the general dynamism in the market to the historically low rates of interest, both for borrowing and for investment.
However, as the notaires point out, some relativism on the volume of sales is necessary, for if measured as a percentage of the housing stock, which has grown by around 1% a year since 2000, sales remain proportionally the same as they were 20 years ago.
Century 21 report that second home purchases fell by around 6%, whilst sales of properties for investment, by contrast, were up by 25%, perhaps reflecting the 'safe haven' status of residential property investment against a backdrop of economic uncertainty.
Prices
With sales at a record it will come a no surprise to hear that all the analysts consider that on a national basis prices increase in 2018, ranging from between 0.9% to 3.5%, as is shown below.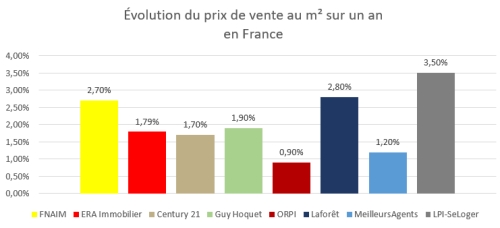 Separately, the notaires report that for the year to 31st October 2018 the average national increase in house prices was 3.5%. The general increase in prices for last year can therefore be confirmed.
However, as Laforêt state, "there are large disparities across the country with three distinct markets: metropolitan areas, medium-sized cities and small towns, and rural areas".

Similarly, Christine Fumagaldi, CEO of ORPI pointed to "the widening gaps between large cities and small provincial towns."
Indeed, as Michel Mouillart of LPI-Seloger states, whether it is in the city or in the countryside, the differences in prices between properties of quality and the more general local market are 'remarkable'.

Century 21 are the only chain to drill down with a more detailed geo analysis, albeit only to a regional level.
As can be seen from the table below, despite the overage national increase in prices, according to Century 21, in three regions prices fell in the year - Brittany (‐0,5%), Centre Val‐de‐Loire (‐1,5%) and Hauts‐de‐France (‐1,9%), the second year in a row when prices have fallen in Brittany and Hauts-de-France.
Property Prices 2018

Region

Average Price m2



Variation 2017/18

AUVERGNE-RHONE-ALPES

€2,414

+5.0%

BRITTANY
€2,007
-0.5%
BOURGOGNE FRANCHE-COMTE
€1,484
+1.3%

CENTRE-VAL DE LOIRE
€1,575
-1.5%

GRAND EST
€1,591
+3.6%
HAUTS-DE-FRANCE
€1,412
-1.9%

ILE-DE-FRANCE (EXC PARIS)

€3,303

+3.4%

NOUVELLE-AQUITAINE
€2,227
+7.5%

OCCITANIE
€1,790
+4.2%

NORMANDY
€1,736
+0.4%

PAYS DE LA LOIRE
€1,965

+0.4%

PROVENCE-ALPES-COTE D'AZUR
€3,582
+4.6%
Outlook
Going forward, both the agents and notaires report a general sentiment of fragility in the market and price increases starting to fall back.

Laurent Vimont, CEO of Century 21 stated: "Prices have been rising for three years now, but cracks are beginning to appear in a number of indicators. The use of credit has been fully exploited, and the surface area reduced to enable purchase. The market seems to be reaching a glass ceiling."

The impact of the '
gilets jaunes
' movement is one significant shadow hanging over the market.
Christine Fumagaldi at ORPI, in particular, points to
"
the difficulty in making reliable forecasts because of many external factors, such as social movements or various government announcements."
For the latest in-depth analysis, subscribe to our news service at France Insider.
France Insider is a subscription-based offer which has replaced our previous free Newsletter.