French House Prices Rise by 2.8%
House prices in France rose by an average of 2.8% in the first half of the year, according to the national group of estate agents, Century 21.
However, as usual, there are substantial regional differences, with notable price falls in Brittany, Poitou-Charentes and Alsace.

The following table shows the average sale value of transactions in Century 21 branches for the first half year, the average price per m² you might expect to pay in each region, together with the price change in the first half of the year over the second half of 2006.

Needless to say, some caution is needed in interpreting these figures, which are probably only best used as a general guide to trends.
Regional House Prices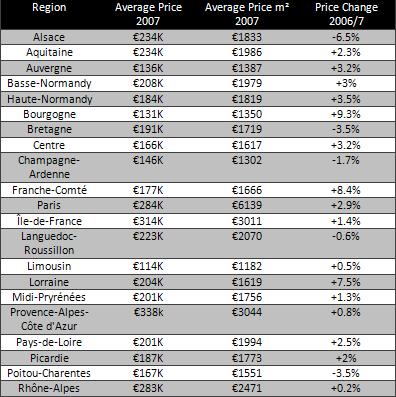 Source: Century 21
Despite a slowdown in the number of transactions taking place, the agents forecast that, overall, prices will continue to rise in 2007 by an average of around 4%. This forecast is slightly lower than that of the professional association of estate agents, FNAIM, in their recent market survey.