House Building in France in 2016
Despite the controversy that frequently rages in France about the lack of suitable housing, in reality the country has one of the largest house-building programmes in Europe.

With upwards of 300,000 new homes a year it compares with circa 130,000 new homes built each year in the UK.
Last year, new homes starts in mainland France increased by 11.4% to 363,300.
In addition, planning consent was granted for a further 438,300 homes, up 15% on 2015.

The following graphic shows the historic trend of starts and approvals for the period 2007-2016, with a peak of nearly 500,000 new starts, to a low of 340,000. By any definition, a large programme throughout the period.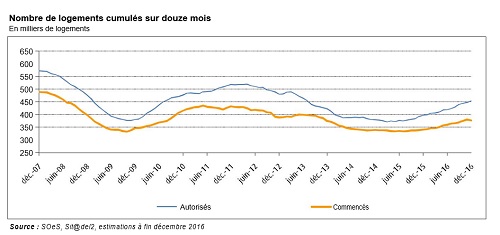 Some nuances are needed on these numbers, for the vast majority of the new homes are apartments (including specialist housing for the elderly, disabled and students), with the level of individual houses at a more modest 111,000 in year.
The new starts and approvals are also around existing metropolitan areas, predominantly in the Ile-de-France (70,500 starts). Other areas with large housebuilding programmes are Provence-Alpes-Côte D'Azur and Rhône-Alpes, the main economic regions of the country.

This building programme takes place against the backdrop of nearly 3 million empty homes in France, equivalent to over 8% of the total housing stock, according to the French statistical office, Insee.

That compares with 1,992,000 empty homes in 2005 (6.3% of the total stock), an increase of 45% in 10 years.

The UK has around 650,000 empty homes.
The figures below from the Ministère de l'Écologie, du Développement Durable show the regional house-building figures for 2016. They are provisional only and some adjustment in the figures can be anticipated later in the year. Those for Corsica have been omitted.

Housebuilding 2016

Region

No



Variation 2015/16

AUVERGNE-RHONE-ALPES

49,000

+6.8%

BRITTANY
21,600
+15.%
BOURGOGNE FRANCHE-COMTE
9,200
+2.1%

CENTRE-VAL DE LOIRE
10,200

+8.9%

GRAND EST
20,500

- 2.9%
HAUTS DE FRANCE
19,900
0.0%

ILE-DE-FRANCE
70,500

+12.7%

NOUVELLE-AQUITAINE
13,900

+18.4%

OCCITANIE
45,100

+17.2%

NORMANDY
13,900

- 1.3%

PAYS DE LA LOIRE
23,500

+3.5%

PROVENCE-ALPES-COTE D'AZUR
35,500
+22.9%
Source: SOes, Sit@del2