Broadband Internet Access in France
Thursday 05 December 2013
Access to a broadband internet connection remains very uneven across France, a level of inequality which public initiative projects are seeking to rectify.

POSTSCRIPT: Whilst this article remains useful for background information, for more up to date information readers are invited to refer to our article Broadband Plans in France.
As might be expected, France has a national plan for the development of high speed broadband and on the face of it the record looks impressive.
According to 'Arcep', the French telecoms regulatory body, over 99% of the population of France have access to the internet via ADSL (which uses the telephone network).
It is a market in which Orange has a 40% share, followed by Free and SFR, each with around 20%. Numericable and other ISPs including Bouygues Telecom represent the remainder.

Since 2003 the number of households in France receiving broadband internet has risen from 3.6 million to 24 million in 2013, with the number increasing by 1 million between 2012 and 2013 alone.

However, as the official definition of broadband (haut débit) is a connection of equal to or greater than 512Kbps, it does mean the threshold to achieve this standard is set very low.
Move it up to a more appropriate 2Mb and the reality is that only 77% of the population can obtain this speed, meaning that around a quarter of all internet subscribers still wait for an modern multi-media internet connection.
Beyond 10Mb less than half the population of France have a connection speed that reaches this level.
Problems are of course greatest in rural areas, where the distance of many homes from the local exchange means that they are unable to obtain a signal strength sufficient to obtain a respectable broadband speed.
In such areas telecoms operators are also more reluctant to lay fibre cables; over 80% of eligible households for an optic fibre connection live in densely populated areas.

Without a decent broadband width along the lines there is no possibility of fully 'unbundling' the service, and households remain harnessed to the historic public telecoms provider. At the end of 2012, only around 20% of exchanges in rural areas had been completely unbundled (dégroupés).
Worst effected departments, where more than 20% of households have an ADSL internet connection of no more than 2Mb, are Haute Saone, Jura, Meuse, Pas de Calais, Gers, Lot, Charente, Creuse, and Nievre.
There are also another 27 departments where between 15% and 20% of the population wait for the semblance of a decent ADSL broadband service, including large parts of Burgundy, Midi-Pyrenees, Poitou-Charentes, Limousin, Picardy, Normandy and Lorraine.
Drill down further and there are nearly 10,000 communes where around 50% of the population in these communes have no decent ADSL internet connection.
In practice, access to a broadband line is not necessarily determined by the commune in which you live, but by your proximity to the local telecoms equipment, which bears no relation to administrative boundaries.
The following image shows the level of coverage in each commune of France with an ADSL internet speed no greater than 2Mb, known as 'zones blanches' or 'zones d'ombre'. Click on the image to enlarge.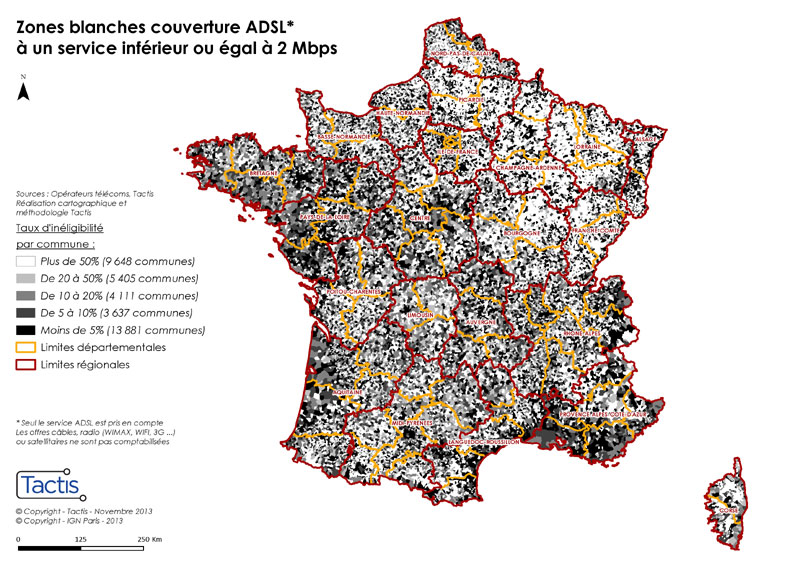 Public Initiative Projects
As alarming as these figures may sound, they do not necessarily mean that the inhabitants in these areas have no access to broadband, merely that they may have had to use other means of obtaining an internet connection other than ADSL.
These other routes, be they satellite or WIMAX (and to a lesser extent fibre optic) are sometimes provided by the local councils, who have stepped in to fill the gap left by the telecoms providers, or with whom they have launched joint investment projects.

However, these projects are not widespread and few have been entirely successful. Satellite speeds, in particular, are not particularly fast and can be unstable during inclement weather, and a fibre connection often expensive and rarely available outside high density areas.

There has also been a lack of coordination between the internet service providers and the regional and departmental councils in the creation and implementation of these projects.

Thus, in some areas the councils have installed optical fibre, only to find that later when Orange upgrades the local telephone exchange the optical fibre network is underused and becomes uneconomic, with households turning to use a potentially cheaper upgraded ADSL service.
As a result, since 2009 attempts have been made to improve coordination of these projects, both between the public authorities and private operators, and also between the public bodies themselves, who sometimes seem to compete to find a solution.
Planning Framework

The major instrument of coordination is the digital planning framework introduced under the loi Pintat, called the schéma directeur territorial d'aménagement numérique, or 'SDTAN'.
The purpose of these blueprints is to create a framework for achieving consistent rollouts among public and private sector players.
The plans are still at varying stages of development, but at the end of 2012, 49 departments had a plan in place, and there were also plans in the regions of Limousin, Auvergne and Alsace.
Only the departments of the Bouches-du-Rhône, the Hauts-de-Seine and Paris, which have densely populated urban areas and are thus well covered by private-sector initiatives, are not drafting a SDTAN.
At the end of 2012 Arcep counted 355 'public-initiative' projects, 16 at regional level, 79 from the departments, and 260 at municipal or inter-municipal level. Further major projects have been launched in 2013.
Perhaps the most successful of these collaborative efforts has been in the Auvergne region, where the regional council and the four departments financed the modernisation of the central telephone exchange with Orange, thereby ensuring widespread ADSL coverage in the region
Despite this progress there remains concern about the statutory framework, which, according to the French Upper Assembly, the Senate, gives too much latitude to the private operators.

Under current regulations local councils are only able to launch their own projects on the basis that they do not compete with the private operators.
The problem with this principle, according to the Senate, is misplaced confidence in the private operators, whose plans, they state, amount to no more than 'investment intentions', totally unilateral and sketchy, with nothing that is legal and mandatory, and with no sanctions if they do not fulfil their plans.
The parliamentarians also criticised the nature of the plans made by the operators, which they stated were frequently very (too) ambitious, and by drawing up plans for deployment of high speed broadband access over a wide geographic area, effectively froze out the possibility of intervention by the local councils.
As far as Orange was concerned there is also every reason to be sceptical of their expressed willingness to act in the public interest to develop a fibre network across the country, as this "does not conform to the reality of a private publically quoted company", says the Senate report.

Indeed, there was greater interest for them in delaying the deployment of fibre network and continuing to earn a return on granting other operators access to its fully depreciated copper lines.
As alternative operators competed in high density areas, there was also the prospect of a surfeit of coverage in these areas, with the liklehood that the disparity between town and country would increase.
The committee concluded that, "This divergence between private interests and public interest leads us to believe that the approach does not offer the guarantees necessary for rapid and consistent deployment throughout the country."

As a result they recommended that the powers of intervention and planning of the regional and departmental councils should be enhanced.
Superfast Broadband

In recognition of these difficulties, and in exasperation at the lack of progress, in February 2013 President Hollande announced a new national 10 year plan, called France Très Haut Débit, to create a superfast broadband network throughout France. The plan replaces a previous version created in 2010.

The objective of the new plan is ​​no less than the deployment of new fibre networks across the entire country, to provide it with a new digital infrastructure, with a 'reseaux d'initiative publique' in those areas where the private sector is reluctant to invest.

In remote and inaccessible areas, where a fibre option remains difficult to envisage, the plan also provides for local councils to examine a range technological options and deployment models,

One alternative option being considered is the delivery of superfast broadband to some rural areas using the 4G fourth generation mobile phone communications technology.

The new guidelines provide for €3 billion in State funding for local authorities over 10 years as well as access to loans from a €20 billion savings fund, created by raising the maximum deposits permitted under regulated bank savings plans.
In all it is a very ambitious plan, with a huge number of legal, organisational, commercial and physical problems to overcome. That is why the President has stated it will take 10 years.

But there does at least seem some light at the end of the tunnel, and the real prospect of a substantial acceleration in the development of high speed broadband in France.

For the latest in-depth analysis, subscribe to our news service at France Insider.
France Insider is a subscription-based offer which has replaced our previous free Newsletter.