Electricity Prices in France 2020
Wednesday 08 September 2021
Electricity prices in France rose 6.1% in 2020, but they are still cheaper than elsewhere in Europe.
According to a report recently published by the French government, French households paid €189/MWh in 2020, up from €124/MWh in 2010.
The graphic below show the movement in prices in MWh since 2007. The blue line is before taxes, the red line before VAT and the green line includes all taxes.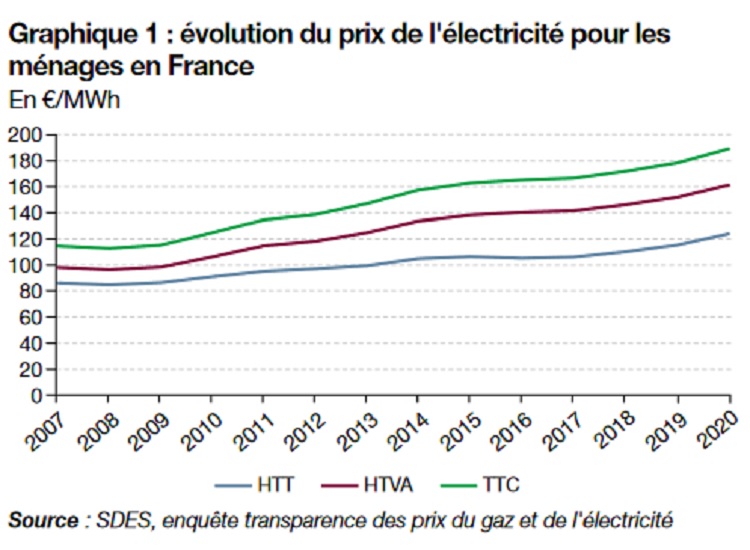 Although the rise in France was mostly down to widespread increases in wholesale prices, French households still paid less on average that in other countries in western Europe in the same year.
The average price for households in the EU was €218/MWh (a 0.1% rise on 2019 prices) compared to €189/MWh in France.
This means households in France paid on average 13% less for electricity than those in the EU.
While electricity prices fell in both Spain and Italy in 2020, overall costs in both countries were still more expensive than in France, as shown on the graphic below.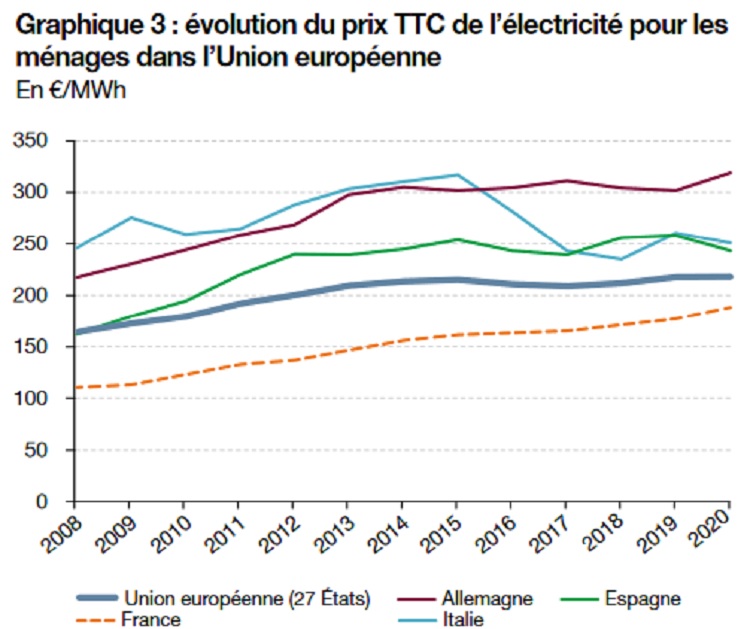 There are numerous reasons for the cheaper prices in France due primarily to France's reliance on nuclear energy. In addition, transport costs and taxes are also significantly lower than those in Italy, Spain and Germany.
For comparison, taxes for electricity including VAT in France are €65/MWh, but in Germany they are €161/MWh, where taxes on electricity are being used to fund investment in renewable energy sources.
Excluding VAT, taxes paid by households represent 20% of the price including taxes (€37/MWh). Of that total, €22.5 €/MWh is attributable to the taxe intérieure sur la consommation finale d'électricité (TICFE), €9.5 €/MWh for the taxes locales sur la consommation finale d'électricité (TLCFE) and €5/MWh for la contribution tarifaire d'acheminement (CTA)
VAT represents on average €28/MWh, or 15% of the price including VAT.
For the latest in-depth analysis, subscribe to our news service at France Insider.
France Insider is a subscription-based offer which has replaced our previous free Newsletter.