French Mortgage Rates Fall to Under 2%
Mortgage rates in France fell last month below 2%, an historic low.

According to the Observatoire Crédit Logement CSA, it has never been cheaper to obtain a mortgage, as rates on older property fell to an average of 1.93% in March.
As the graph below from CSA amply demonstrates, rates have been on a downward path almost continuously since 2008, following the global banking crisis.
The graph shows the average rates for both new build and existing property, with rates on the former slightly higher than on an older property.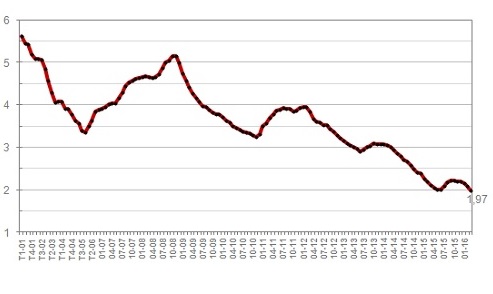 Loans over a short duration offer the best rates, with those for a 15-year loan period averaging 1.73% in the month.
The rate rises to an average of 1.99% for a loan taken over 20 years, and to 2.34% for a 25-year loan.
One of the characteristics of the mortgage market in France is the significant regional differences between the rates that are on offer.
Thus, best rates can currently be obtained if the property is located in (the now former regions) Aquitaine, Brittany, Limousin and Poitou-Charentes, whilst in Provence-Alpes-Côte d'Azur and the Ile-de-France the average rates are higher.
In large measure the differences are explained by the mutualised structure of some banks, and the level of competition that exists between them in each region.

The best rates will be obtained by those able to show a regular, stable income and who can offer a significant contribution to the purchase from their own funds.

In all cases the rates stated above are fixed, although they exclude any administration fee that may be associated with the loan, as well as the cost of mortgage protection insurance.
In the best cases it is possible to negotiate the waiver of the administration fee, but mortgage protection insurance is almost always obligatory and runs out at around 0.50% of the loan, depending on your age and medical profile.
Notarial fees on a purchase transaction are also slightly higher if a mortgage is used to finance some of the purchase.
Accordingly, whilst the headline rates may get the pulses racing it is important to factor in all costs that may be associated with the loan.

As to the future, most analysts are forecasting that there will be no significant change in rates this year, but that they may well rise slightly in 2017.
If you may be interested in seeking a mortgage in France, you can visit French Property Mortgages to explore the options available to you.

Related Reading:
For the latest in-depth analysis of French property ownership and living in France, subscribe to our sister-site France Insider.
France Insider is a subscription-based offer which has replaced our previous free Newsletter.