Bank Savings Options in France
With base rates in Europe at an historic low these are lean times for cash savers, and government regulated tax-free savings accounts remain the optimum solution.
Where to place a cash sum in these turbulent and uncertain times is a quandary for most savers.
Money held in bank deposit accounts has never made anyone a millionaire, but for those reluctant to bet on a volatile stock market there are few alternative investment solutions.
The most successful and popular form of investment savings in France is assurance vie, but even here gross returns from guaranteed funds have fallen under 3% in recent years, and you would not generally consider this kind of structure for short-term money.
The policies now have greater benefit as vehicles to get around French inheritance laws and taxes, for which they are particularly useful.
All banks offer standard savings accounts (compte à terme), but the gross interest on the balance is less than 0.50%, before deduction of social charges and income tax.

Those seeking instant access to their money are best advised to hold one or more of the government regulated savings accounts, which are also offered by all banks in France.
The most popular of these is the Livret A.
Each adult member of a household can hold a Livret A, but the maximum deposit is €22,950 per person, excluding interest.
The great attraction of the scheme is that interest earned is completely free of tax and social charges.
The interest on Livret A is determined twice a year by the government, based on the rate of inflation. With inflation running at almost zero in France over the past year or so, the current rate on the account is a meagre 0.75%.
However, as low as that figure seems, the real return after inflation is larger than it has been for many years, as the following graph shows.
Although in the past the savings rate has been as high as 4%, after inflation the net return has been actually worse than is currently the case.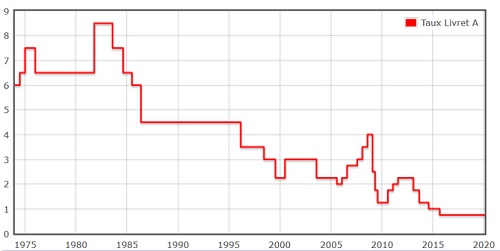 In addition to Livret A there is another similar account, which offers a slightly more generous rate of interest. This account is called the Livret d'Epargne Populaire (LEP).
The current rate of interest on the LEP is 1.25%.
Its main limitation is that the maximum amount (excluding interest) that can be held on the account is €7,700 per person. Married couples are each entitled to hold an account but there is a maximum of two accounts per household.
It is also subject to a test of resources, with the qualifying criteria being a maximum net income threshold.
For 2016 the maximum threshold is €19,225 for a single person, increasing to €29,537 for a couple with no children. It is increased by €5,141 for each additional 'half-part' of a household, eg child.
To open an account you will need to produce your latest income tax return to the bank.
Related Reading: