Sterling/Euro Currency Review December 2013
Tuesday 07 January 2014
Sterling fell against the euro throughout the early part of December before recovering losses to finish the year at the psychologically important €1.20* level, says Ben Scott.

Historically, December is an extremely volatile month as economic releases wind down and traders settle positions, causing high volatility.

Sterling proved to be one of the main losers during the first half of December 2013 falling from an 11-month high of 1.2117 (point A on the graph) to a low of €1.1809, trading at an average of €1.1951 throughout December.

Once more, Sterling's inability to sustain levels above €1.20, despite the improving economic outlook in the UK, will cause some concern for euro buyers going forward.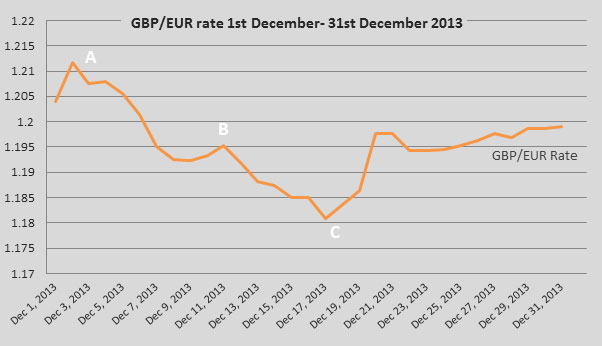 Sterling experienced a sharp increase going into December as economic data again outperformed forecasts, adding to the growing belief that the economic recovery is both established and sustainable.

Manufacturing and construction figures again showed improvements with construction figures in November reaching the highest level since August 2007 supporting claims from the Bank of England (BOE) that

"the economic recovery has strengthened"

.

Sterling weakness immediately after point A can partly be attributed to the BOE's desire to reduce speculation of rate hikes with Bank of England member, Ben Broadbent, claiming the "

BOE would not raise rates until the recovery is entrenched

", causing Sterling to devalue as any indication of interest rate hikes would make Sterling a far more attractive investment.

Sterling's decline against the euro, between points A and B, came despite improved employment figures from the UK, whilst euro strength in this period followed positive comments from European Central Bank President Mario Draghi, who went to great lengths to justify the recent ECB rate cut, claiming the move had put the Eurozone in a far stronger position going forward.

Sterling's slight improvement at point B was a result of economic data improving in the UK with forecasts predicting a faster growth for the final quarter of 2013, whilst a decline in the UK's trade deficit figures also had a positive impact on the pound.

Nevertheless, Sterling weakness quickly returned with Bank of England Governor Mark Carney admitting that "

excessive strength in Sterling is a major risk to the economy

", again dampening any potential of an interest rate hike in the short term.

Euro gains were not necessarily a result of improved economic data during the first half of December and euro weakness, seen earlier in November, re-asserted (from point C on the graph). Despite the respected German ZEW survey showing improvements in investor confidence a significant drop in consumer confidence added to rising doubts over the Eurozone's ability to sustain the marginal recovery seen in the second half of 2013 - a lack of confidence suggesting a lack of spending and subsequently a lack of growth.


Outlook
Numerous factors will determine the direction of GBP/EUR rates in the short to medium-term, despite improvements in the employment market which saw the unemployment rate fall from 7.8% to 7.6%. Concerns remain that an expected period of economic consolidation in the UK may prove detrimental to Sterling.

Further, early in December doubts surrounding a UK housing bubble were greatly reduced after BOE Governor Mark Carney removed incentives for mortgage lending. However, the number of potential buyers attempting to buy property using the Government's Help to Buy Scheme had trebled in the preceding two months, provoking fears of a potential housing bubble which could prove extremely negative for the UK economy going forward.

Elsewhere, comments from UK Chancellor George Osborne stating that

"the recovery is not yet done

" put recent economic improvements into perspective, and suggests the potential for bumps in the road to the UK economic recovery - particularly if the employment market fails to add to recent improvements.

Despite recent signs of economic improvement in the Eurozone, which helped Ireland become the first country to exit the Eurozone bailout, concerns remain about the unbalanced nature of the recovery, Germany showing signs of significant strength whilst other European countries continue to struggle. A concern for the euro is France, the second largest economy in the Eurozone; it stands on the brink of a double-dip recession, which would prove extremely negative for the euro.


*Interbank throughout



Ben Scott
Foreign Exchange Ltd
www.fcexchange.co.uk

This article was featured in our Newsletter dated 07/01/2014