July saw sterling finally recover some stability after the significant volatility seen in recent months, writes Ben Scott.
Brexit fallout saw political turmoil in July with the Conservative party leaderless following Prime Minister David Cameron's resignation and Labour leader Jeremy Corbyn under significant pressure from his party to resign.

Sterling looked set for a further period of sustained downward pressure, but these concerns were alleviated with Theresa May taking up the reins as Prime Minister far quicker than anticipated.
The consequences of the vote to leave the EU will not be known fully for months, if not years. However, the announcement that UK business expectations had declined significantly after the Brexit vote resulted in a GBP/EUR low of 1.1564 interbank (IB). This fall represents the lowest GBP/EUR rate since August 2013 (Point A on the graph).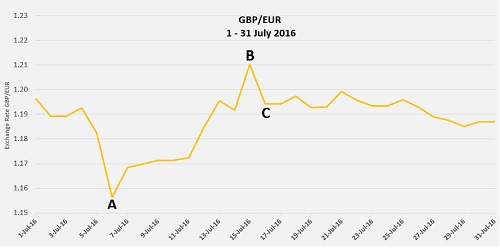 Sterling managed to recover some losses against the euro with GBP/EUR hitting a high of 1.2103 (IB) July 15th, shortly after the announcement that Theresa May had taken control of the Conservative Party.

While uncertainty in the UK is expected to continue, political, social and economic concerns remain throughout the Eurozone, resulting in relatively muted GBP/EUR movement, trading at an average rate of 1.1877 throughout July. GBP/EUR traded at an average rate of just 1.2660 throughout June.



Economic data in the UK remains mixed with construction data coming in below forecasts, pointing to contraction in this sector. However, industrial and manufacturing remained above forecast although it is worth noting data was gathered pre-Brexit vote.

Meanwhile, concerns surrounding the strength and stability of Europe's financial sector continue to weigh heavily on the euro and were contributing factors to the euro's weakness, highlighted by point B on the graph.

The European Central Bank warned of dangerously high levels of bad debt being held by Italian lender Banca Monte dei Paschi di Siena, one of the world's oldest Banks.

While economic data from the Eurozone remained resilient, with inflation edging higher and services PMI (Purchase Managers Index) improving for Spain, Italy and Germany, significant economic concerns remain.

A drop in both German factory orders and exports and the announcement that German Industrial production slowed through May raised concerns that further monetary stimulus might be required from the European Central Bank (ECB) to stimulate economic growth, which could provide some respite for Euro buyers.

'Project Fear' so heavily pushed by the 'remain' campaign continued to unravel with (former) Chancellor George Osborne uniting with several US banking giants to pledge that despite the Brexit vote the City of London will continue to thrive.

A joint statement with investment banks including JP Morgan, Morgan Stanley and Goldman Sachs pledged to ensure London remains the world's dominant financial centre and one of the most attractive places in the world to do business when it finally leaves the EU adding further impetus to the Pound.

Despite speculation that the Bank of England (BOE) could cut interest rates to support the economy, with markets pricing in an 80% chance that the BOE would cut rates in July, no interest rate cut was forthcoming.

Only one member of the Monetary Policy Committee (MPC) voted to cut interest rates. This decision led to a period of stability with GBP/EUR trading in a tight range for the rest of the month despite the announcements that the UK unemployment rate had fallen to fresh 11 year lows as the markets wait for post-Brexit economic data, highted by the relatively level rates from point C onwards.

Outlook
New Chancellor Phillip Hammond announced Britain was "open for business" while promising there would be no need for an emergency Brexit budget, threatened by previous Chancellor George Osborne. However, market apprehension undoubtedly remains.
Despite the BOE not cutting interest rates, it seems likely that rates in the UK will be cut at least once before the end of the year. It's likely the BOE believe they have not seen enough post-Brexit data to justify a cut in July.

A rate cut in August seems likely, with Citibank going even further and forecasting an additional £75 billion in quantitative easing (QE) over the next four months, which, if accurate, would have the impact of further devaluing sterling.
The prospect of a further loosening of economic policy seems to be supported by BOE Chief Economist, Andy Haldane, who stated his intent to vote for a significant package of action in August.
Despite the IMF reducing UK growth forecasts for this year and 2017, and initial economic readings after the Brexit showing declines in key sectors, the economic outlook for the UK certainly seems more positive than a month ago, with new Chancellor Philip Hammond already entering into discussions with China on a multi-billion pound free trade deal.
There is a growing belief that the decline of sterling since the referendum may have already reached the point where any tariffs which could potentially be imposed by the European Union might already have been nullified. However, Britain's position seems a lot more encouraging than previous negative forecasts would suggest, with German manufacturers already warning of the need to protect their trading relationships with Britain, and key elections due in both Germany and France next year.
Elsewhere, and very significantly, comments from David Folkerts-Landau, Chief Economist of Deutsche Bank recently stated "Europe is extremely sick and must start dealing with its problems", pointing to increased uncertainty for the euro going forward.
Ben Scott
Foreign Exchange Ltd
www.fcexchange.co.uk