Access to UK Television in France
Obtaining access to UK television in France is not difficult for most households, although, strictly speaking, it remains illegal to do so.

The legal offence arises due to licencing controls imposed on broadcasters, and national copyright laws that protect authors and producers.
These controls mean that broadcasters can only show domestic channels within a specific territorial area and national copyright laws protect the distribution of programmes outside of the country of origin.

To watch UK television, UK consumers need to have paid the television licence fee. That includes on-demand programmes such as BBC iPlayer, on any device. The licence fee is in law a tax, so watching live television without it is a criminal offence.

Without licencing and copyright protection, the commercial risk to broadcasters and authors is significant, for the licence fee funds the running of the BBC and territorial copyright protection enables rights-holders to obtain funding to produce their works and to sell their programmes to other markets.
Thus, the BBC generates significant income by selling to television stations around the world many of the programmes it makes for its domestic audience. For Sky, it is a central component of their commercial strategy, enabling them to differentiate their market and thereby maximise their income.

In practice, of course, the digital revolution has outstripped laws designed for an analogue age, enabling hundreds of thousands of households in France, and tens of millions of around the world, to obtain access to the UK channels either via satellite or on-line.
That does not necessarily mean that consumers abroad need act in flagrant breach of the law, for although you may no longer live in the UK it is still possible to pay the domestic television licence fee by merely going on-line at TV Licencing. You need to provide a UK address, but that is a task that should not normally be too difficult to accomplish. An address can have more than one licence. Doing so will still not make you entirely legal, as UK television remains restricted to UK residents, but it does lend a greater degree of legitimacy to your viewing of the channels. The licence fee is currently €150.50 per year.
Such a gesture would also assist in supporting the terrestrial channels against the growing competition of on-demand streaming services such as Amazon Prime and Netflix, and to a lesser extent You Tube, which are presenting huge challenges to the current business model for broadcasting. According to the BBC, young people 16-24 years already spend more time on Netflix than they do on BBC television. Unlike the public service broadcasters, who have substantial programming obligations, the US media giants operate freely.

Change to the existing model is also under challenge from the European Commission, who for many years have been trying to break down the barriers to territoriality in broadcasting services, with a range of Directives issued on copyright to facilitate consumers' access across borders.
In particular, their Digital Single Market Strategy adopted in May 2015 set out "to reduce the differences between national copyright regimes and allow for wider online access to works by users across the EU". The strategy has not made the progress the Commission would have wished, due to resistance from existing stakeholders.

Nevertheless, one of the most important outcomes has been to grant 'roaming' rights to consumers in Europe, who are now entitled to use viewing rights purchased in their home country on a 'temporary basis' whilst they are abroad, although free-to-air and licenced broadcasters (BBC and C4) are excluded from these regulations. It is as yet unclear what will happen to these rights after Brexit.

The Commission also commenced anti-trust proceedings against Sky and the Hollywood film studios and has won some significant concessions from them on ending the practice of imposing geo-restrictions on film licencing contracts, which prevented competition between pay-tv providers.

However, producers and broadcasters (and governments) have shown little interest in making use of the facilitating arrangements that have been put in place.
So what is the best option for you - satellite or on-line?

Satellite
All the main non-encrypted UK television channels are available in France via a satellite dish.
If all you seek are 'free-to-air' (FTA) channels there is no need to invest in a new decoder box, as you can bring one you own from the UK and good quality second-hand boxes are widely available on eBay and other such websites. Any digital satellite receiver will do the job, although the Sky digibox and Freesat are the favourites. It pays to buy a newer model due to faster speed and greater reliability.
Without a UK address you will only be able to receive FTA channels, which includes all the regular channels, but not subscription channels.
It is possible to continue to receive Sky premium channels, either by continuing with your UK subscription, or using a friend or relative to obtain a card for you. There are also several companies in the UK and France who will provide you with a subscription, albeit for a fee.
The Sky subscription card will need to be paired with the digibox to ensure activation of the service, which is done when the dish is installed.
Dishes are widely available in France, and there is no need to bring one from the UK.
The quality of reception you are going to obtain will depend on your location (and your dish) for the Astra satellite beam that provides the channels is focused on the UK, and the further south and east you live in France the larger the dish you will require, as below: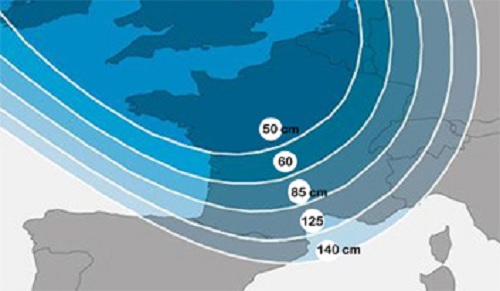 You need to be very careful about the installation of a large dish on your property. High winds could well bring it down, and with it the chimney or the structure to which it is attached. The fittings that are used to fix the dish to the property will also need to be of good quality.
Where it is impractical to put a large dish on the roof then some expats have resorted to the installation of a dish on a pole in their garden, although it requires laying cabling underground from the property to the dish.
To ensure proper alignment of the dish you will normally need to engage a specialist installer, of which there are many in France, both British and French companies. However, there are charlatans around so check the credentials of whomever you propose to use as correct alignment and a secure fixing are paramount to good reception. You will need to receive Astra 2 at 28° East for UK channels.
Planning regulations on the installation of a satellite dish on a property are not specified in law, which merely states that any change to the external facade of the property requires a works declaration, called déclaration préalable.
In practice, local councils take little interest in the installation of dishes, unless it is in a conservation area, where particular regulations may apply. In such circumstances, a solution available in Northern France is to install a small hidden dish, which does not require administrative consent.
No permission is required if you install it on a pole(s) in the grounds of the property, unless it is over 12 metres in height, or you live in a conservation area.
Wherever the dish is located and whatever the size, stormy weather conditions will sometimes cause viewing difficulties, although reception is generally stable.
If you wish to watch television in more than one room in the house then you will need to ensure that the dish is fitted with an LNB external transponder with multiple outputs (up to 8 heads are available), with cabling then down to a set-top box in each room.
On-Line
As an alternative to satellite it is becoming increasingly common to access UK television over the internet, a process that is known as 'streaming' or 'IPTV' (Internet Protocol Television). The range of channels available, from all over the planet, is almost limitless.
Sky indicated last year that they were planning to offer all of their services on-line, giving customers the option of discarding their satellite dish. Although the end of satellite dishes may not be imminent, the future for receiving television in your home will be via the internet.
Any streaming solution depends on you having a decent broadband connection, ideally not less than 3Mb download, although it will work at +2Mb at low quality, with frequent buffering.
Although there are many rural areas in France where internet speeds are not good enough for streaming, it is worthwhile investigating the availability of a 4G mobile antenna your area, which is fast becoming a cost-effective solution to obtaining a decent internet connection, providing speeds far higher than satellite internet or ADSL. The masts are also less affected by weather conditions than a satellite.
As UK television is geo-restricted to those who are resident in the UK, obtaining access abroad requires that you disguise your location by using a Virtual Private Network (VPN).
Basically, a VPN routes your internet connection through a server located in the UK, which then gives the appearance of you being located there. As your data passes through an encrypted tunnel it also means your activity is completely private.
Without using a VPN if you tried to obtain access to a UK television channel your IP address (location) would be captured by the broadcaster and a message would read that it was not available outside of the UK.
You can either use a free VPN or pay for one.

Free VPNs
There are many freely accessible streaming websites around that offer channels from all over the world; you merely sign-up and tune in.
However, these sites rely on advertising for their revenue and few will work with ad-blocking software.
In addition, obtaining access is not always easy, some are not effective in getting around the geo-restrictions as their server may be blocked (BBC i Player frequently blocked), and there are data download limits. There are normally pop-up adds and other distractions to cope with, their speeds are invariably slow, their privacy policies often lacking, and some contain malware.
The lack of security on such sites should make anyone wary of using them.
Accordingly, unless you are seeking access to UK television on only an occasional basis, it rarely makes sense to download one of these free websites.
Subscription VPNs
The best solution is to be prepared to pay for your VPN.
Two of the best subscription based VPN providers, who offer good speeds and a large remote server network in the UK, are NordVPN and ExpressVPN. Both operate on Android and tablet, which is not always the case with these providers.

Sometimes, however, even using such providers there remain problems of access, when occasionally an IP address is blocked, when you then need to select another server, or contact the support team to resolve it. Sometimes the problem may need to be resolved by simply clearing the cache on the computer. You may also need to make adjustments to your Windows and internet configuration and/or reset the application after you have first installed it. Some patience and set-up knowledge is therefore required.

Once in use, you will also find that you will sometimes need to go through additional security checks on websites you visit and there can be problems with sending emails, as your ISP provider may suspect spamming. Accordingly, it may be best to connect to the VPN only when you you need to watch television.

Normally, a single VPN subscription will cover several devices and all users in the household, although you need to check with the supplier.
You also need to consider the distribution of the WI-fi signal within the property, and if you have televisions in various rooms then purchase of a WI-fi extender may well be necessary.
As an alternative to a VPN it is also possible to use a Smart DNS, effectively a proxy server that also gets around geo-restricted content, but they are less secure.

Android Box

Using a VPN does not necessarily mean you are obliged to watch television via your pc, tablet or android, although you can of course do so. Provided you have a television with an HDMI (High Definition Multimedia Interface) output, you can connect your pc to the television with an HDMI cable between the two of them and the programme will then be simultaneously shown on the television and the pc.
However, such an approach is not suitable for regular watching of the television, and the use of a VPN on your pc on a permanent basis can affect your more general use of your pc for surfing the web, as some websites restrict access if you are using a VPN. In addition, all your searches will be based on the country where the server is located.
A more practical solution is to buy a streaming device, such as an android box that sits alongside your television, or a USB stick device (eg Amazon) that plugs directly into the HDMI output on your television.
These devices are themselves connected to your WI-fi system, but not all sticks will stream all television services. You need to make a choice about what you prefer. Google Chromecast is a popular choice, which you can operate from your smartphone or pc, but there are screencast devices.

Both the android boxes and sticks can be configured to run through a VPN, although there are companies in France and the UK that are able to provide a complete service, including supply of the device and the VPN.
As an alternative you can also configure a 'Smart TV' (internet connectivity) to obtain UK television using a VPN. An Apple TV box works equally well.
Neither the android boxes or sticks are expensive. They will not give access to Sky UK premium channels, for which you will need to take out a subscription, requiring a UK address.
We would be most interested to hear of your own experiences so we can develop this article for later readers. You can contact us at editor@french-property.com.
For the latest in-depth analysis, subscribe to our news service at France Insider.
France Insider is a subscription-based offer which has replaced our previous free Newsletter.