The French Village at Birmingham NEC 2015
After a record breaking attendance in London in May, our 'French Village' at A Place in the Sun Live property exhibition moves on to Birmingham in September.

There were nearly 8,000 visitors to the exhibition in London, an increase of 26% against the same show last year.
As has now become customary, our French Village was one of the most popular attractions, with our stands and seminars jammed for a great deal of the three days of the show.
The lucky winner of our prize draw in London was Pam Batten, from Slough in Berkshire.
Following on from that success we move on to Birmingham NEC between 25th to 27th September.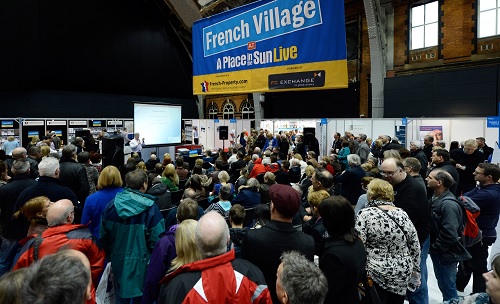 Exhibitors
As well as offering a selection of properties from agents and private vendors across France, there will be an opportunity to meet a range of specialists on buying property and living in France.
Seminars
There is a packed seminar programme for the three days of the show, with rolling presentations from expert speakers.
The seminars will cover some of the key issues of concern to French property buyers - the legal process of buying property, French taxation, wealth and inheritance planning, getting health cover, mortgages, planning system, starting a business in France and currency management.
We shall be publishing the seminar programme in a future Newsletter.

Advertise Your Property
For the latest in-depth analysis, subscribe to our news service at France Insider.
France Insider is a subscription-based offer which has replaced our previous free Newsletter.